The recent short covering rally in Tesla stock provides a better price point to position to profit on a further pullback in TSLA.
Tesla (NASDAQ:TSLA)  is in trouble. It is down $80 a share (40%) in the past month and a half and $260 a share (67%) since making a high last April. And it's becoming increasingly clear that China — the very market that the company once appeared dependent on for survival — may ultimately spell even more trouble for Elon Musk in the weeks and months to come.
In October, Morgan Stanley analysts said that Tesla Motors is so dependent on the Chinese market that it is essentially a Chinese tech stock. "We estimate Tesla generates as much as one-half of its profitability from the Chinese market," they remarked, "arguably making the stock a derivative of a Chinese tech stock." That's a problem when considering Musk's sales in China continue to plummet, and Musk's business ties to China continue to incite congressional movement.
Following China's slashing of a pro-Tesla subsidy program, deliveries of its China-made cars hit its lowest point in five months in December, causing TSLA to cut prices in the country for the second time in three months. As of today, prices are now down between 12% to 24% from September.
Is this a minor stock blip? History indicates that it may not be. In fact, in 2017 when the country scaled its tax subsidies back significantly, car registrations plummeted over 95%, so Tesla's travails just might be getting started. Even China has conceded that Tesla may need to take drastic actions to stay afloat, with the China Merchants Bank International (CMBI) saying that, "Tesla needs to further cut prices and expand its sales network in China's lower-tier cities amid ageing models."
Worse news for TSLA is that, even if Musk does right this ship with China, the new Congress is highly expected to crack down on companies that they perceive to be tied too closely to the communist regime this year. And Musk's companies appear to be at the top of this list.
Last year, The Wall Street Journal published a news story that expressed legislators' "concerns…on the potential for China to gain access to the classified information possessed by Mr. Musk's closely held Space Exploration Technologies Corp., including through SpaceX's foreign suppliers that might have ties to Beijing." The piece went onto state that some lawmakers are troubled "by the lack of clear lines between SpaceX and auto maker Tesla Inc." These concerns caused Rep. Chris Stewart (R-UT), who sits on the House Permanent Select Committee on Intelligence, to call for classified briefings and Sen. Marco Rubio (R-FL) to  introduce a bill that would seemingly restrict the government from utilizing contractors like Musk who retain their ties to the Chinese Communist Party.
Now that the House and Senate is split between Republican and Democratic control, expect regulating companies like Musk's to become an even bigger congressional priority as it represents one of the only ways they can govern in a bipartisan fashion 2023. As a senior fellow with the Chongyang Institute for Financial Studies put it, "only through the topic of containing China is it possible for both parties to form a united front. This is not because China has really become the enemy that will destroy the U.S. tomorrow morning, but because they can't reach a consensus on many US domestic problems, they can only use China to shift the subject."
The election of Kevin McCarthy as Speaker of the House has only compounded the concerns for TSLA's future. He said this summer that he will lead a congressional delegation to Taiwan and co-authored an op-ed with Rep. Mike Gallagher (R-Iowa), chairman of the Select Committee on China, titled, "China and the US are locked in a cold war. We must win it. Here's how we will win it." Expect him to partner with Sen. Majority Leader Chuck Schumer (D-NY) to address the perceived China threat in some capacity.
Certainly, some big players are looking for the recent rebound in Tesla shares to reverse. Almost 10,000 of the February $100 puts traded Friday at around $3.00. This equates to roughly a 3 million dollar wager that the sell-off in Tesla has further to go.
The big-time buyer of these put options is positioning more pain in Tesla stock and a meaningful break of the $100 support level. Using bearish put options in place of shorting the stock allows the trader to participate in the downside in a defined risk manner.
Add this all up, and it appears that TSLA is in a classic "damned if you do, damned if you don't" scenario. Fixing its profitability problems in China may help it in the immediate short term — but doing so may only fuel its looming congressional regulatory crackdown in ways that could significantly affect sales in its largest market, the United States. Investors would be wise to stay away until this dust settles.
POWR Options
What To Do Next?
If you're looking for the best options trades for today's market, you should check out our latest presentation How to Trade Options with the POWR Ratings. Here we show you how to consistently find the top options trades, while minimizing risk.
If that appeals to you, and you want to learn more about this powerful new options strategy, then click below to get access to this timely investment presentation now:
How to Trade Options with the POWR Ratings
All the Best!
Tim Biggam
Editor, POWR Options Newsletter
---
TSLA shares closed at $122.40 on Friday, down $-1.16 (-0.94%). Year-to-date, TSLA has declined -0.63%, versus a 4.20% rise in the benchmark S&P 500 index during the same period.
---
About the Author: Tim Biggam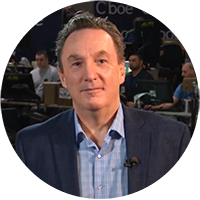 Tim spent 13 years as Chief Options Strategist at Man Securities in Chicago, 4 years as Lead Options Strategist at ThinkorSwim and 3 years as a Market Maker for First Options in Chicago. He makes regular appearances on Bloomberg TV and is a weekly contributor to the TD Ameritrade Network "Morning Trade Live". His overriding passion is to make the complex world of options more understandable and therefore more useful to the everyday trader.
Tim is the editor of the POWR Options newsletter. Learn more about Tim's background, along with links to his most recent articles.
The post Will China Be The Ultimate Downfall For Tesla (TSLA) ? appeared first on StockNews.com