At the unlikely possibility that you don't visit Trader Joe's multiple times a week (like I proudly/shamefully/compulsively do), I'll fill you in with some news: the popular retailer isn't just a grocery store—nor is it simply a crucial part of your seasonal entertainment. It's a treasure trove for all the best health and wellness products, too. Across all of our favorite food categories—snacks, bevvies, dairy and gluten alternatives, and immunity-boosting shots—Trader Joe's delivers. And bonus: when you're shopping on a budget, TJ's should be your go-to.
It comes as a surprise to exactly no one that eating healthy and finding inflation-proof deals can be challenging. While you don't always have to splurge on organic and there are other strategies for cutting healthy corners, I personally find that Trader Joe's comes in clutch when I'm in need of groceries that support my wellness goals, come in under budget, and indulge my cravings for a snack or meal that's consistently delicious without fail (so, always).
Featured image by Michelle Nash.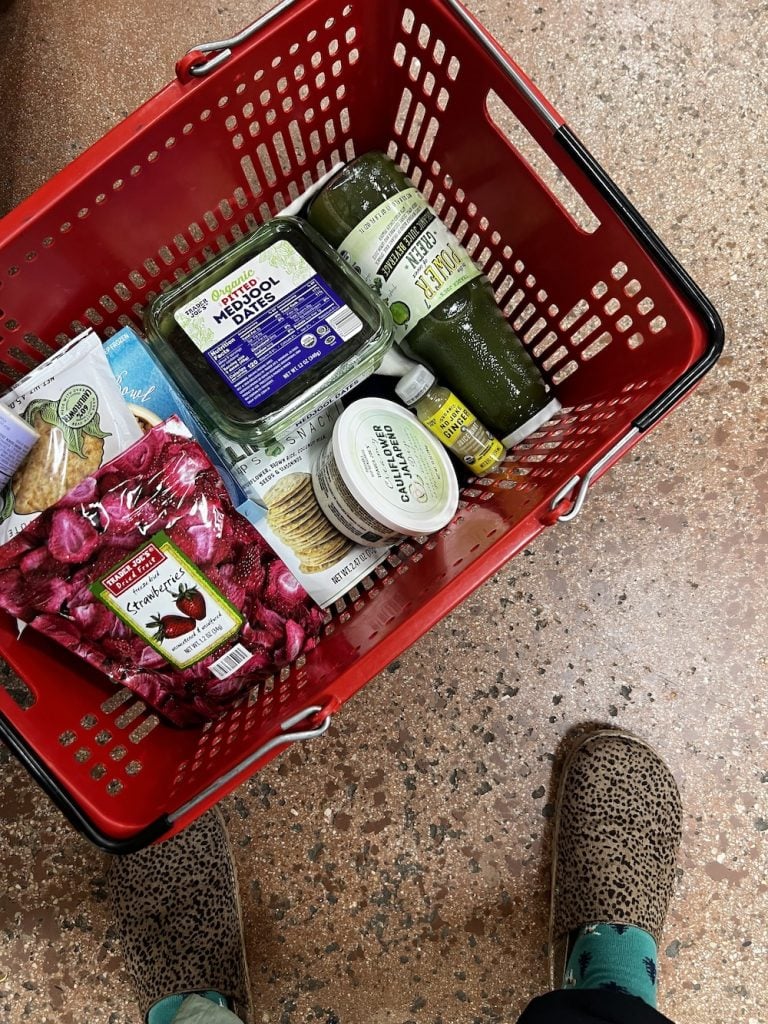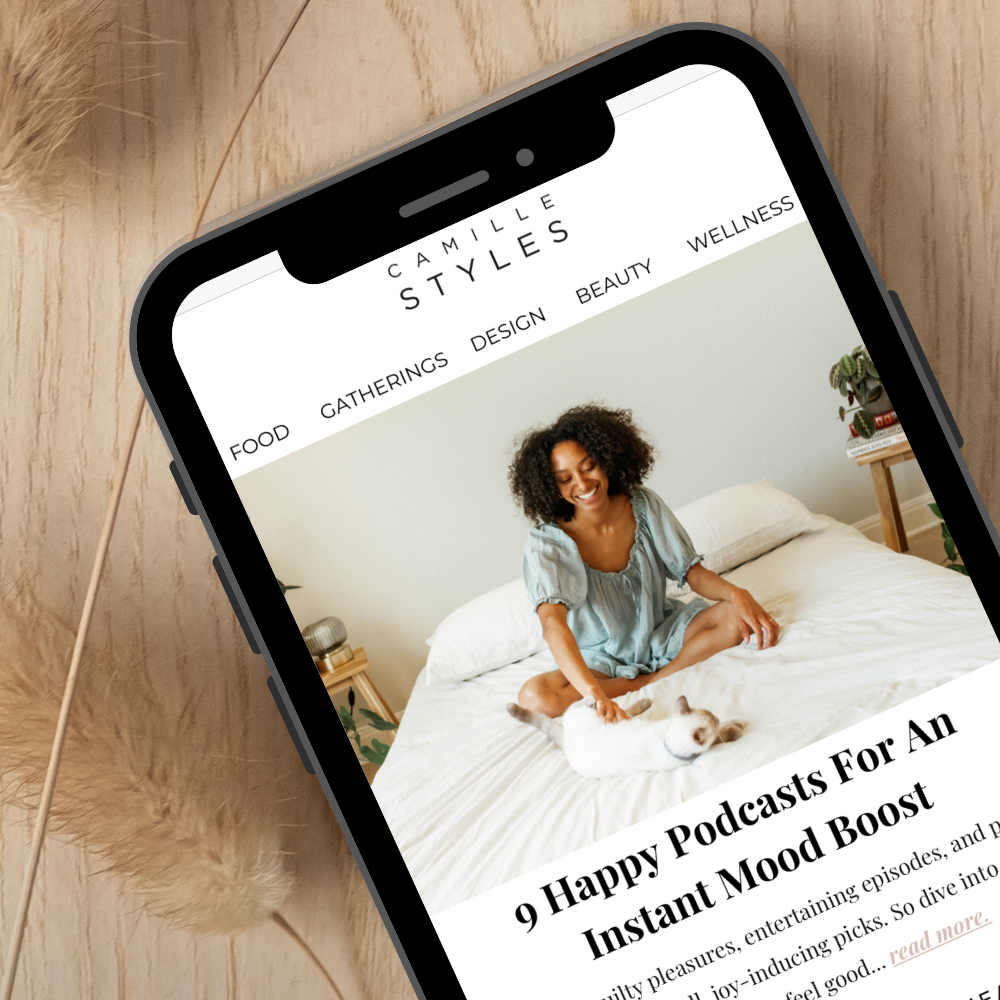 Subscribe
Get the goods.
Gatherings, food, design, wellness, and more—it's the newsletter you'll actually want to read.
Thanks for Signing Up!
Oops!
Looks like you're already signed up or your email address is invalid.
Oops!
Looks like you unsubscribed before click here to resubscribe.
The Best Healthy Trader Joe's Products
In the spirit of streamlining your Sunday shopping trip and helping you sift through Trader Joe's many amazing products, I took it upon myself to do the good (and fun) work of sampling all of the best wellness-supporting picks. Below, you'll find the result of my research—and all of my favorite healthy Trader Joe's finds.
But before you get to it, I'll admit… there's a lot of cauliflower going on with the products below. Instead of writing off the gluten alternative as passé, take heart: we can always trust Trader Joe's to be on top of food trends—and to make those that may seem out of date interesting again. I'll get into the details below, but trust: each of the following products check my all-important boxes of being 1. tasty (re: addictive); 2. budget-friendly; and 3. supportive of all your 2023 wellness goals.
So get your shopping lists ready, these are my top 12 healthy Trader Joe's picks.
Note: All prices reflect pricing at my local Trader Joe's in Chicago and may vary depending on location.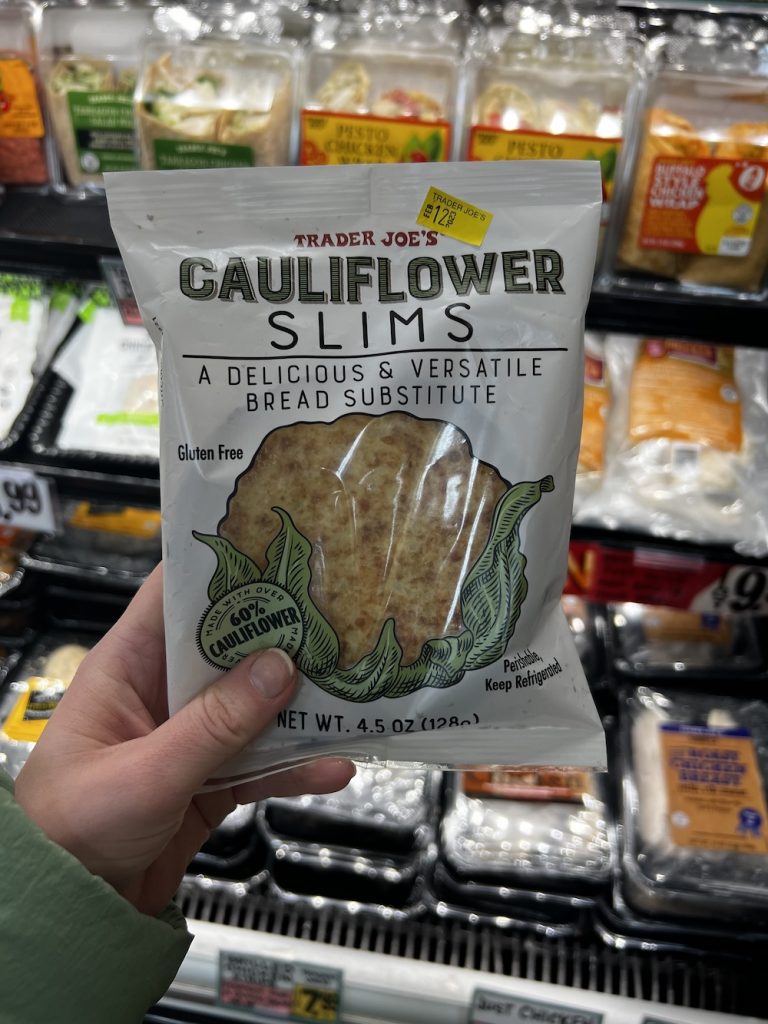 Cauliflower Slims: $3.99
*Previously Cauliflower Thins* When it came to selecting a gluten-free wrap alternative, these won out against the also-popular Jicama Wraps. Nothing against jicama, of course, (we love it in our tacos, sliced thinly into matchsticks), but I was definitely swayed by the clearly-visible fluffiness of these "delicious and versatile" bread alternatives. Compared to other cauliflower/bread hybrids, these actually contain a significant amount of cauliflower—comprising over 60% of the ingredients.
Add to that only eggs, parm, cheese, salt, and yeast, and you have a clean option that'll happily hold all of your favorite sandwich ingredients. And if you're tempted to eat these on their own, you're not alone—I've been known to tear into them between the hours of 3 and 4 p.m.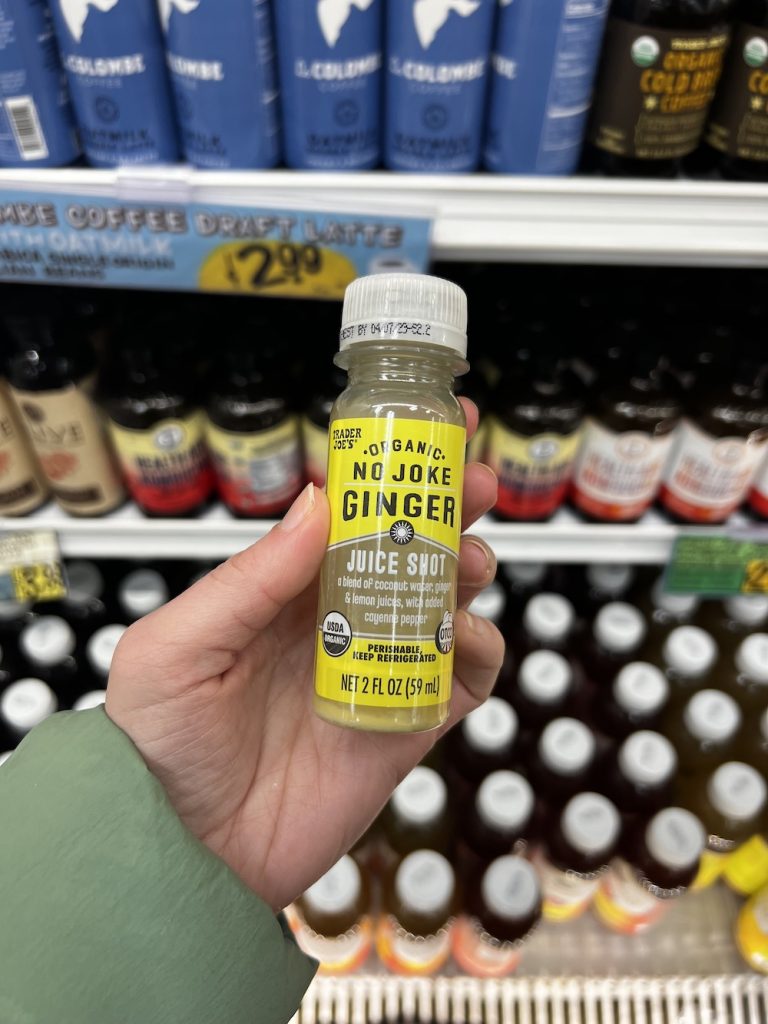 No Joke Ginger Juice Shot: $1.99
Spend a few minutes in the depths of "that girl" content on Instagram or TikTok and you're bound to see any number of creators fast-forwarding through their ginger shot juice prep. And while even my mom is making her own ginger shots (I'll chalk the ingenuity up to her DIY New England roots), I'm much happier purchasing mine pre-made from Joe.
Sure, from a sustainability perspective, downing a ginger shot once a day, every day might not seem feasible. But… when I felt a cold coming on a couple of weeks back, I immediately picked up a few of these shots, took them in the morning, and nipped that potential sickness in the bud. Don't call it magic, call it "a blend of coconut water, ginger & lemons juices, with added cayenne pepper." An elixir of health.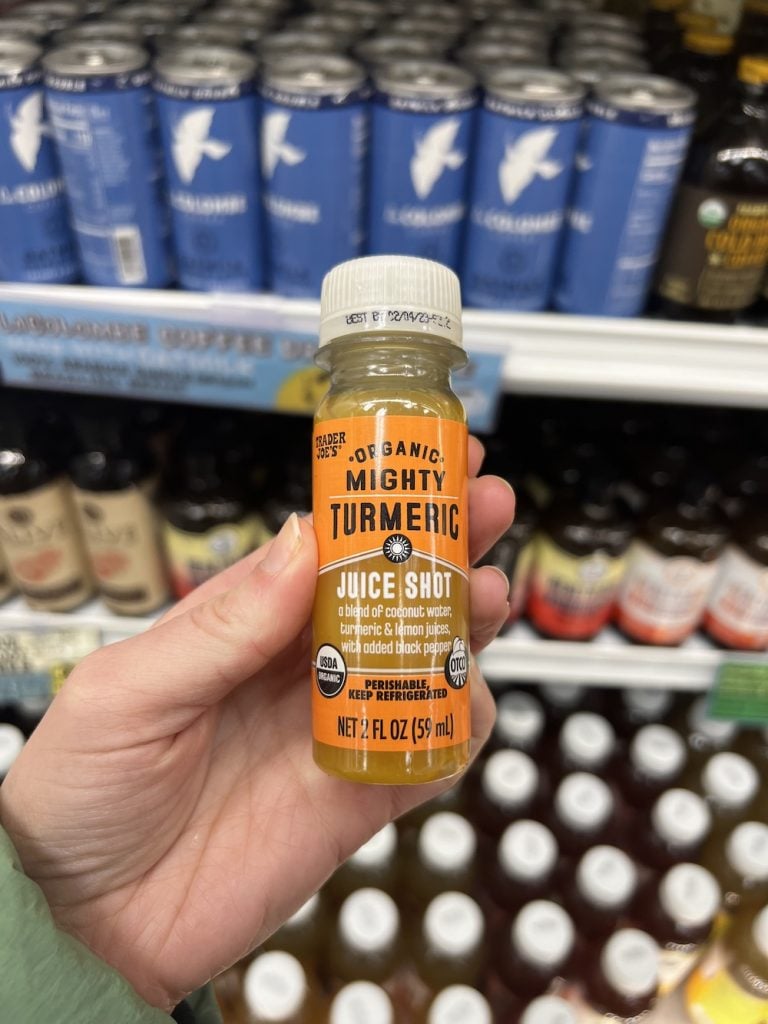 Mighty Turmeric Juice Shot: $1.99
Would it be a roundup of the best healthy Trader Joe's products if I didn't include a minimum of two juice shots? And of course, featuring the ultimate anti-inflammatory ingredient: turmeric. I'll say this as a blanket statement including the ginger shot above: these are not tasty. Yes, I know "deliciousness" was a qualifier in my criteria, but if you're new to the world of juice shots, then I'll save you the time—don't expect something crave-worthy. Here's the hard truth: these are all about the benefits, not the taste.
And while that might seem like a drawback, I'll elaborate further. The benefits make the bitter-spicy flavor worth it. If you're not yet convinced, read all about turmeric's inflammation-fighting goodness here.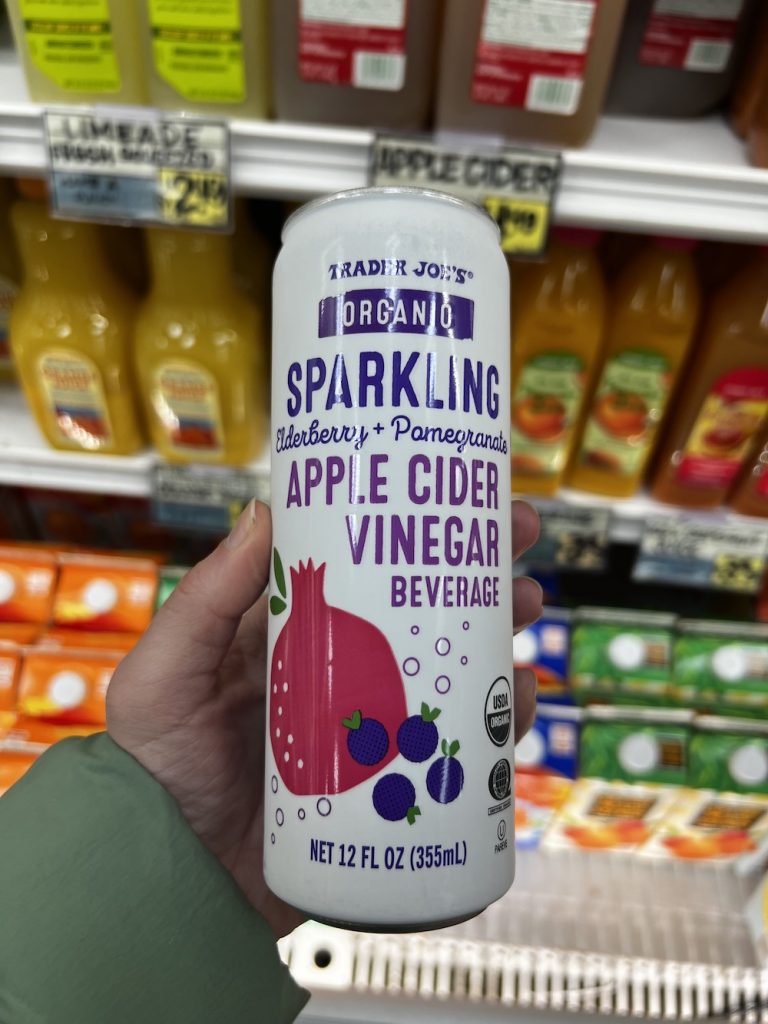 Sparkling Elderberry + Pomegranate Apple Cider Vinegar Beverage: $1.69
But if we do want to talk about bevvies that sit at the intersection of tasty and totally good for you, this apple cider vinegar drink is it. Admittedly, this is one of the few products of my healthy haul that I hadn't tried before, but when I saw it sitting among the kombuchas and juices, I knew I needed to pick it up. We've written before about apple cider vinegar being one of the best immunity boosters. And because I'm among (the many) who can't handle a straight shot of ACV in the morning—or even enjoy it diluted with water—this incredible elderberry-pomegranate concoction comes as a delicious alternative. It's one that I'll happily sip on every day.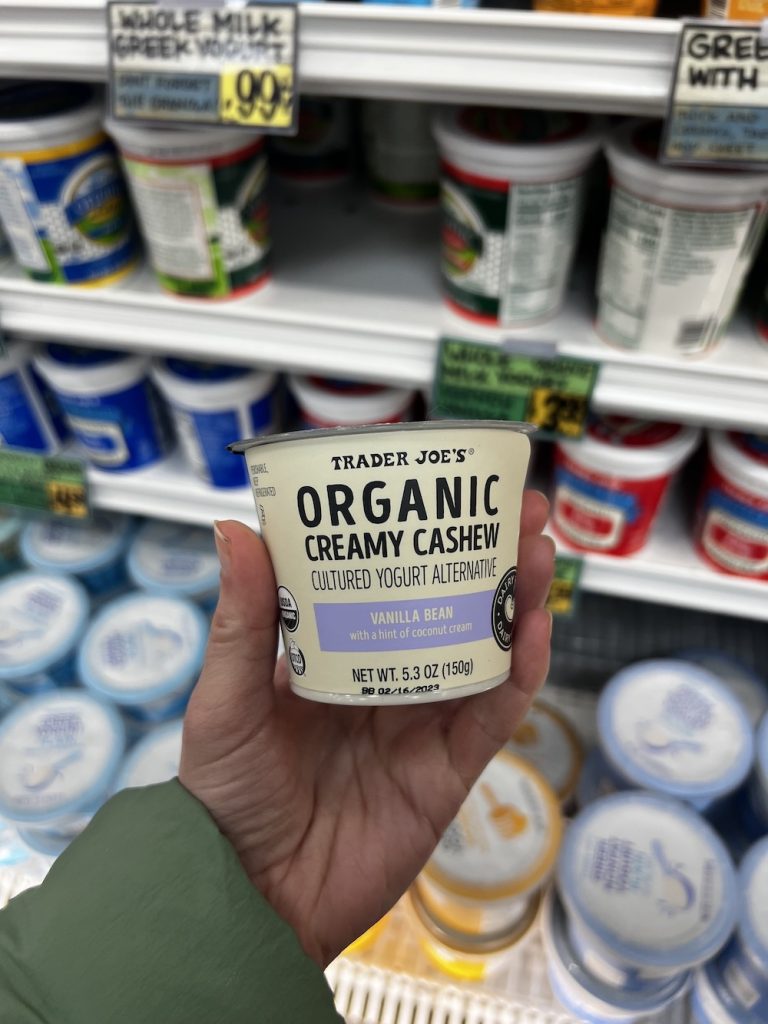 Vanilla Bean Creamy Cashew Cultured Yogurt Alternative: $1.79
Tell me if this resonates: I swap between smoothies and oatmeal for breakfast on a whim… after eating each for weeks straight. I'm not sure if it's neurotic, but I can—and will—eat my oats for breakfast 15 days in a row. (Creatures of habit, raise your hands.) All that being said, I will happily swap in a yogurt bowl here and there. Because… a fruit plus a grain plus a protein equals early-morning happiness. But because all hot girls deal with digestive issues from time to time, I also opt for dairy-free alternatives when I want to satiate a yogurt craving.
Trader Joe's—once again—delivers. I won't lie, the ingredient list is long, but this cashew yogurt clocks three grams of protein and a healthy dose of deliciousness. Dairy who?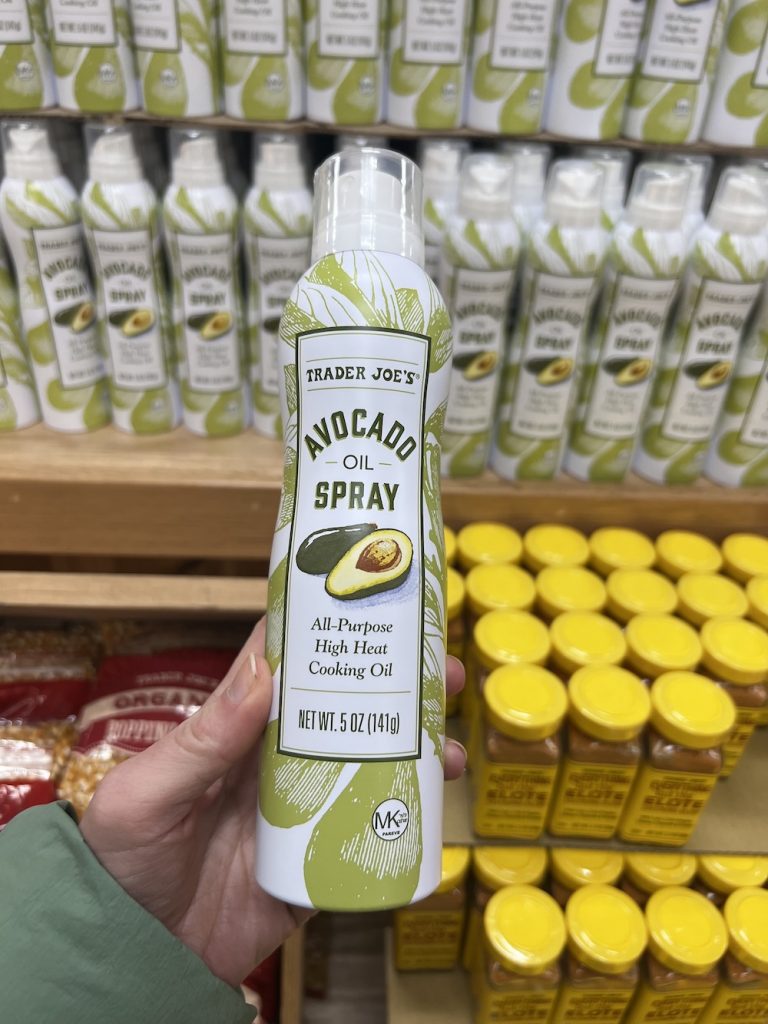 Avocado Oil Spray: $3.49
IYKYK—Trader Joe's has one of the best olive oil selections in the game. (And in an industry known for olive oil fraud, to be able to find quality sources at reasonable prices is an absolute win.) But, because I've also found myself curious about the many heart-healthy wellness benefits of avocado oil, I decided to give this spray a spin. Spoiler: I'm grateful I did. This spray makes it easy to roast vegetables until perfectly crisp, and because it has a high smoke point, it's played a key role in all of my broiling adventures.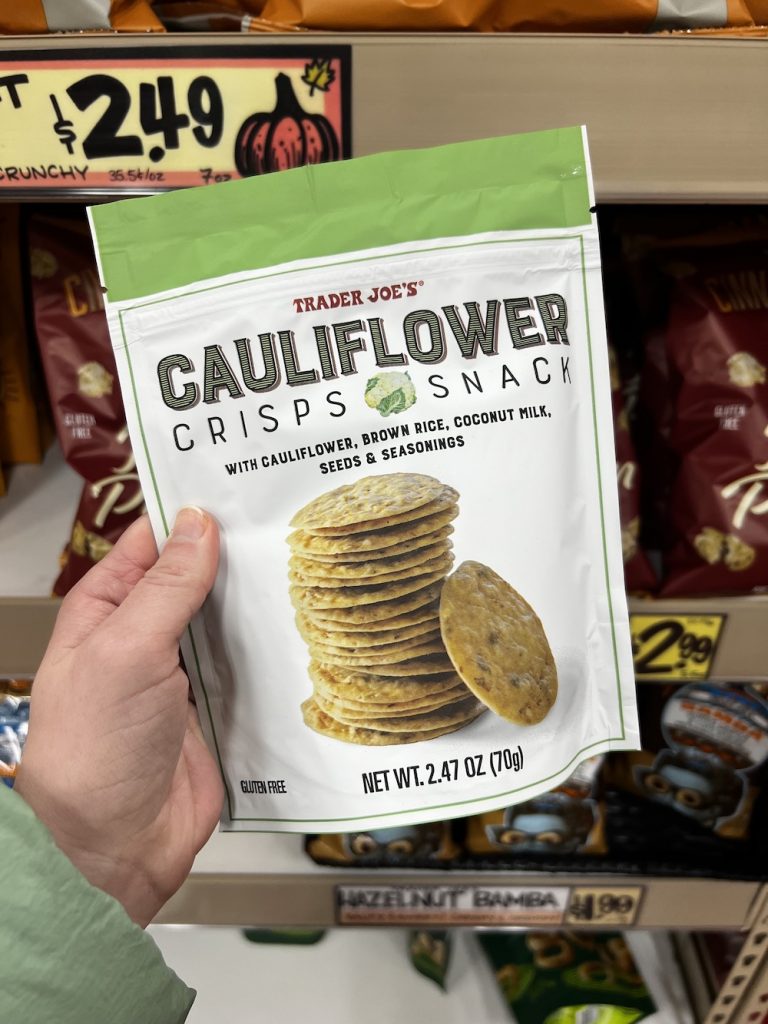 Cauliflower Crisps Snack: $2.99
Cauliflower strikes again! Because Trader Joe's is well known for its addictively delicious snacks, I couldn't *not* include my favorite pick on this list of healthy go-to's. I'll start with the crunch—unreal. Whereas other cauliflower-based snacks turn to mush immediately in your mouth, these crisps retain a tasty texture all throughout. What's more, each serving contains two grams of fiber and less than a gram of sugar. In a world where sugars sneak their way into even the most unsuspecting food products, it's a breath of fresh air to snack on something that's exactly what it says it is—no surprise ingredients included.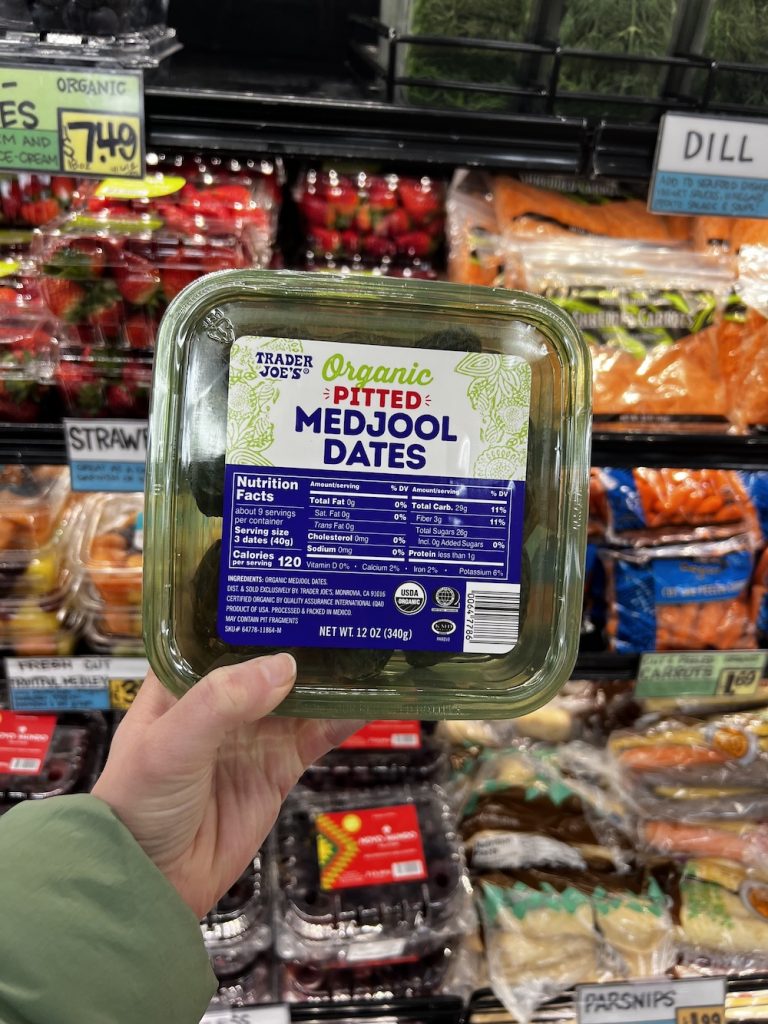 Pitted Medjool Dates: $5.99
Speaking of snacks that are exactly what they say they are… dates might be my ultimate fave. And while you can, of course, get them in most grocery stores, I paid $5.99 for this box (a step up from the typical $12 I'd spend at my usual supermarket). Dates are a great option for adding a little sweetness to smoothies, but I'll happily snack on them between meals. Or, if I'm feeling fancy, I'll stuff them with nut butter and add a drizzle of honey—and maybe a sprinkle of chopped nuts for that necessary added crunch.
To the Power of Seven Green Organic Juice Beverage: $4.99
The name of this green juice alone… so good. While you're certainly welcome to juice your heart out and fill your fridge with homemade green juices, I'm personally not here for the clean-up (did I mention this is a lazy girl's guide to healthy Trader Joe's products?). Thankfully, this juice contains all the same goodness you'd add yourself. Kale, spinach, green apple, cucumbers, celery, lemon, and ginger. And at just over $1 per serving, this is the least expensive green juice you could ever hope to find.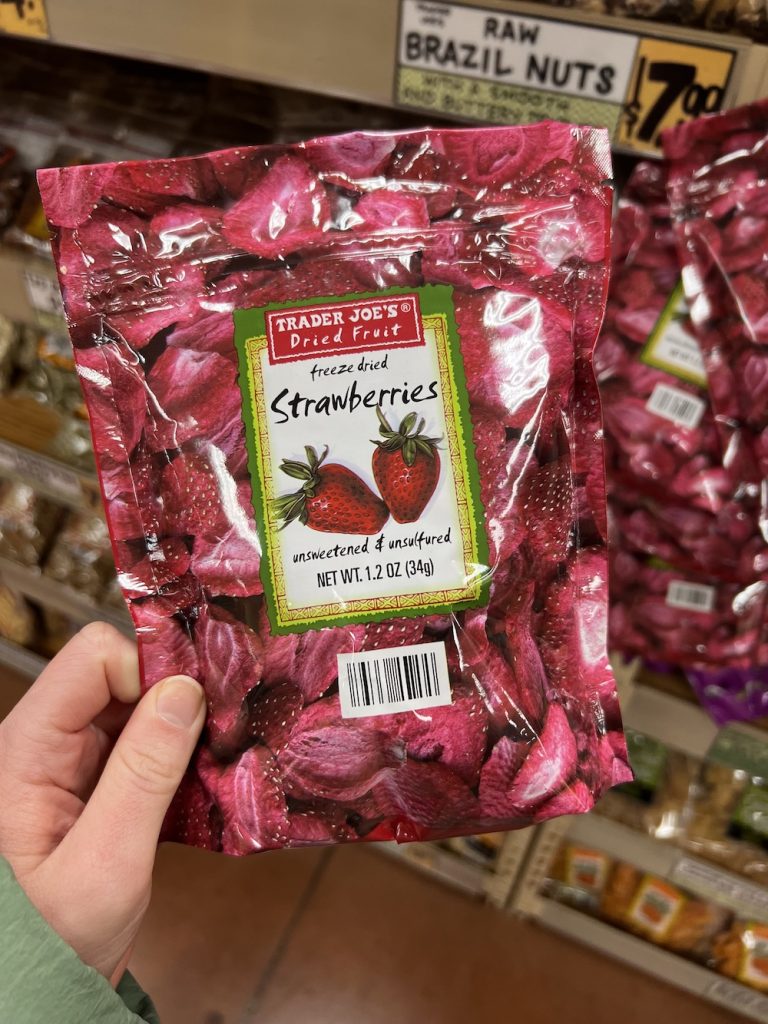 Freeze Dried Strawberries: $2.99
As someone who loves her yogurt bowls and oatmeal (see my diatribe above), I'm always looking for ways to work a mix of textures into my go-to breakfasts. I've added flaxseed, chia seeds, bananas, and sliced almonds. But now, with the addition of these Freeze Dried Strawberries, my perfect morning meal is complete. These are crunchy, fruity (of course), and taste exactly like strawberries. The reason being, the only ingredient is strawberries. No added sugars, no added anything. The seven grams of fiber per serving simply seal the deal.
Riced Cauliflower Bowl: $2.99
I couldn't skip over Trader Joe's well-known and much-talked-about prepared meals section. This (vegan) Riced Cauliflower Bowl comes with everything you need for a well-balanced and colorful lunch or dinner. Of course, cauliflower serves as the bowl's base, but marinated chickpeas, sweet potatoes, baked tofu, and roasted onions join in to make it a complete and flavorful meal. But the real kicker? The tahini sauce. As I write this, I'm mentally confirming that this will be today's lunch. The countdown to deliciousness starts now.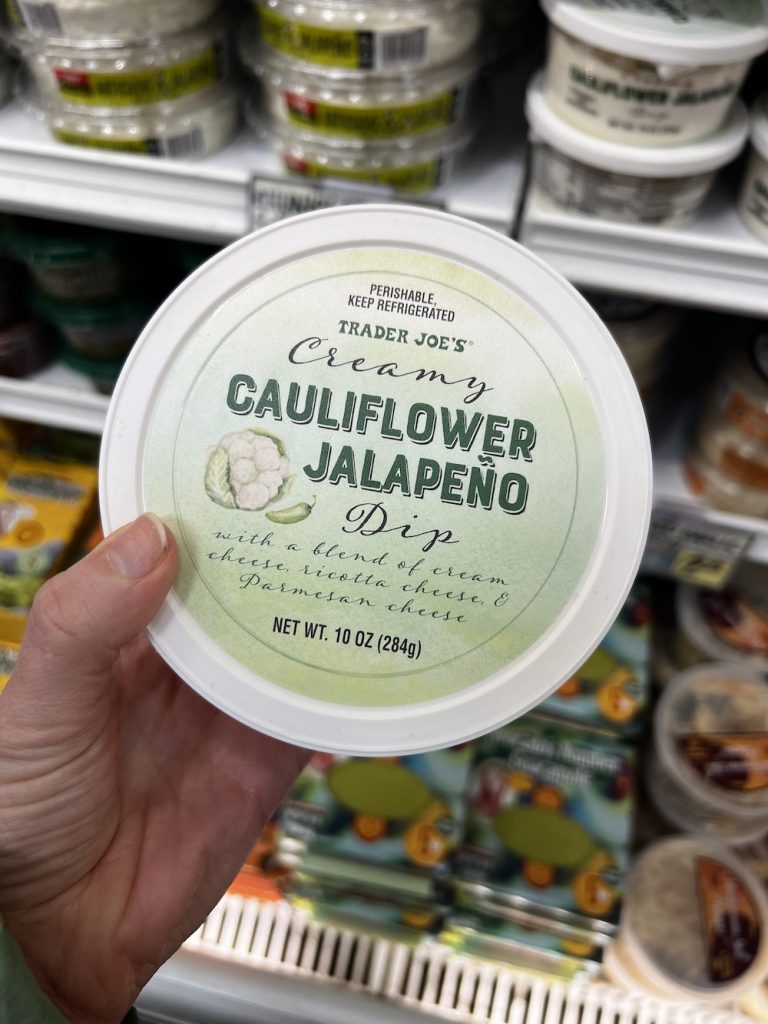 Creamy Cauliflower Jalapeño Dip: $3.79
I won't lie—I'm not much of a dip girl. I can get down with hummus and I love a salsa-soaked summer. Dips, however, often just seem too gloppy and frankly—a bit gross. But because I consider myself an adventurous person (and I didn't want my dip prejudice to compromise this article's journalistic integrity), I went for the Creamy Cauliflower Jalapeño Dip. And friends, I was pleasantly shocked.
I'll get a few disclaimers out of the way. You'll taste the jalapeño, but this dip doesn't deliver the pepper's expected kick. And while I did miss that bit of heat, its lack made it easier to scoop up this dip with reckless abandon (the aforementioned Cauliflower Crisps being its vehicle of consumption). What else helped? The fact that the cauliflower makes this dip both creamy and incredibly light. Whereas other dips might fill you up immediately (I'm looking at you, artichoke dip), this one satiates and satisfies without any bloat or discomfort. So for all you dip fans out there—myself now included—consider this product a must-buy.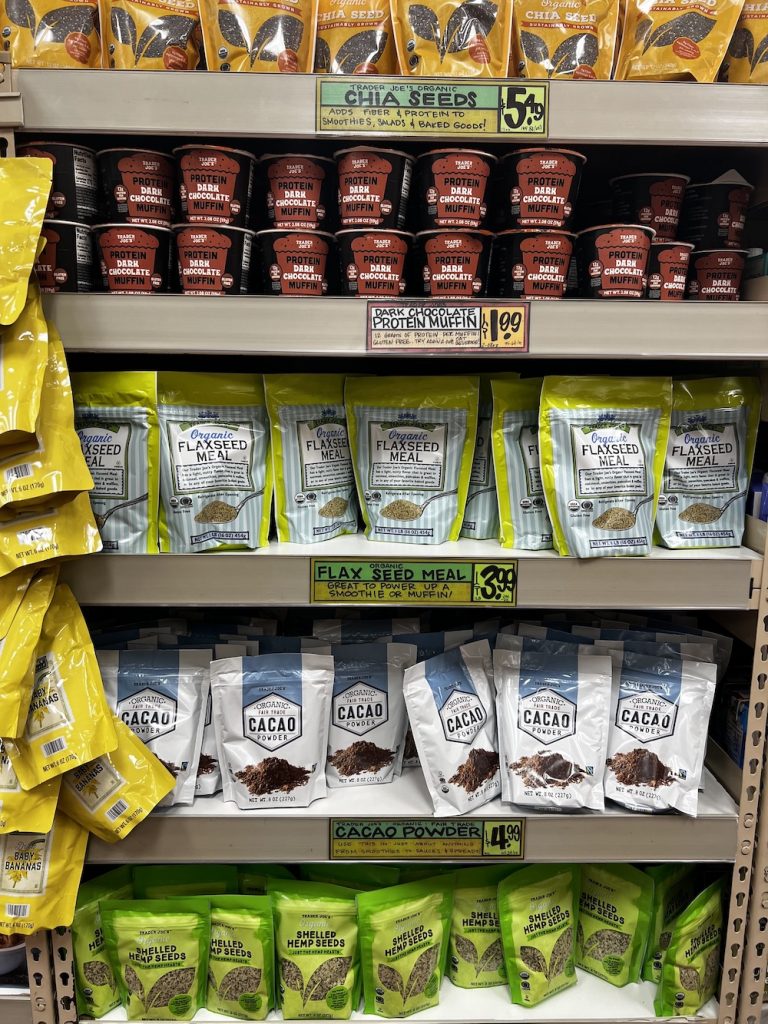 Honorable Mentions
I'd be remiss not to say that, among Trader Joe's exclusive-to-the-store wellness products, there are a few additional healthy staples that I include in my cart on a weekly basis. While you can certainly find these elsewhere, if you're already hitting up TJ's, why not drop them in your cart as well? See below for my favorite healthy staples.
Frozen fruit. From blueberries to strawberries to mango and pineapple chunks—Trader Joe's frozen foods section has everything you could ever want to blend up your dream smoothie. If you're looking to get that additional hit of antioxidants from your brekkie, don't skip this section.
Coconut oil. I surprise even myself with how quickly I can go through a jar of coconut oil. If you're looking for an affordable cold-pressed option, Trader Joe's has you covered.
Alternative pastas. Brown rice, lentil, and quinoa pasta—oh my! At Trader Joe's, you're welcome to dream beyond the expected gluten-laden pasta options.
Vitamins. While the packaging might not be as cute as some of the more expensive supplement brands, I've been taking Trader Joe's Vitamin C Complex, Vitamin D, and their Omega-3 Fatty Acids supplements for years and my habits have been met with promising results. Of course, consult a medical professional before beginning any supplement program.
Nuts. Last but not least, the nuts. Almonds, cashews, walnuts, and more. The prices are unbeatable, and whether you like your nuts raw, roasted, or salted, there's an option for you. Pro Tip: I store my nuts in the freezer to keep them from going rancid.