There are a lot of bad veggie sandwiches out there. Whether they're bland, lifeless, watery, or just plain boring, vegetarian sandwich recipes frequently miss the mark. Why, you ask? Well, one of the best aspects of vegetables is their high water content. It's exactly the thing that makes them so nutritious that can dock their sandwich-ability. But not all hope is lost—there are tons of delicious vegetarian sandwich recipes out there to keep things interesting, nourishing, comforting, and enjoyable.
If you're a veggie sandwich veteran, you're no stranger to the potential woes of loading two slices of bread with tasty veg. Sometimes the veggies saturate your bread on the first bite, everything falls apart, and you wish you'd gone with a different dish entirely. Unfortunately, this is the all-too-real reality of a lot of vegetarian sandwich recipes.
But there's light at the end of the tunnel with the options below—promise! Instead of settling, these vegetarian sandwich recipes go above and beyond to ensure every lovable component of a sandwich is celebrated.
Featured image by Suruchi Avasthi.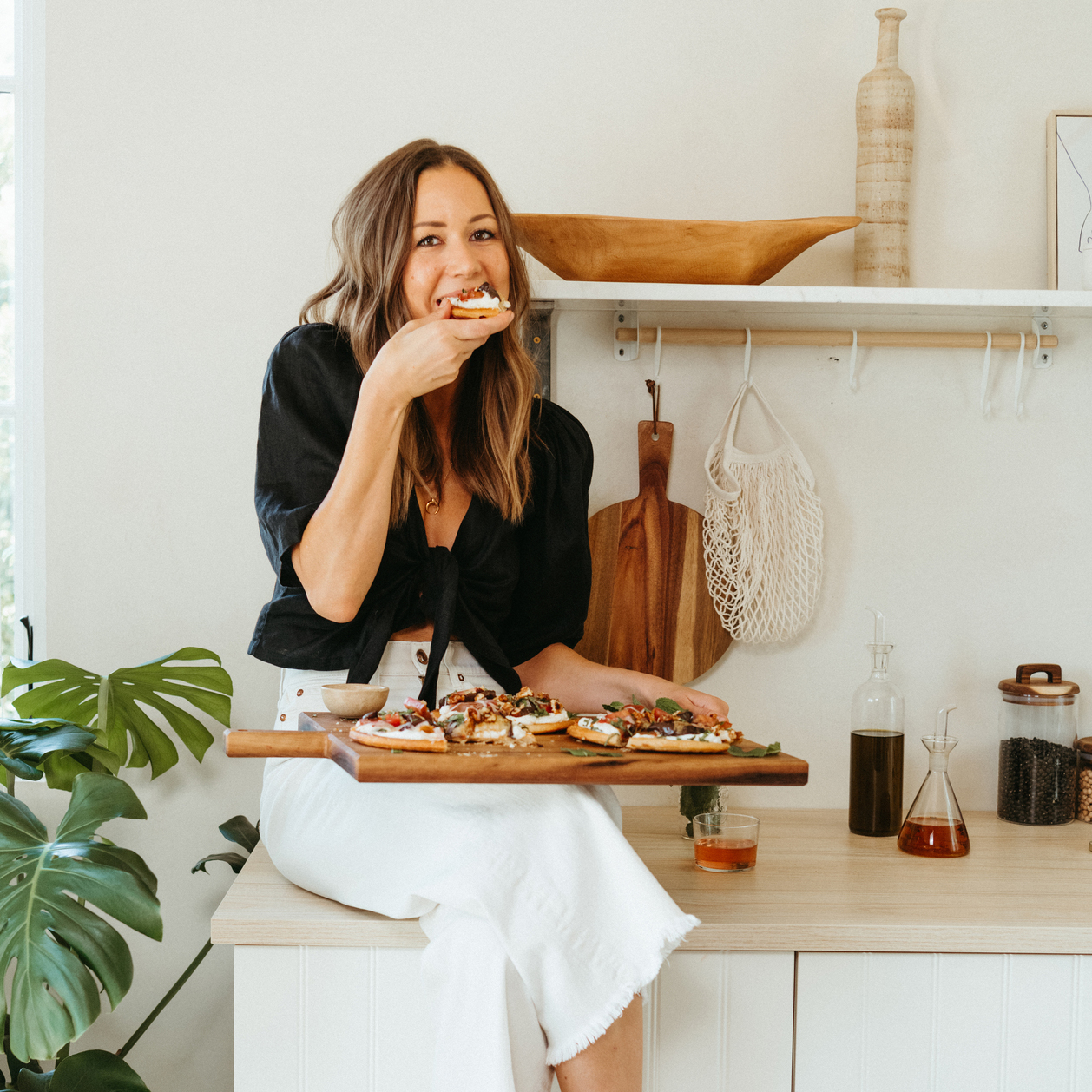 Subscribe
Our Top 10 Recipes
Sign up to receive a FREE E-BOOK of my top 10 most popular recipes of all time!
Thanks for Signing Up!
Oops!
Looks like you're already signed up or your email address is invalid.
Oops!
Looks like you unsubscribed before click here to resubscribe.
25 Vegetarian Sandwich Recipes to Elevate Your Midday Meal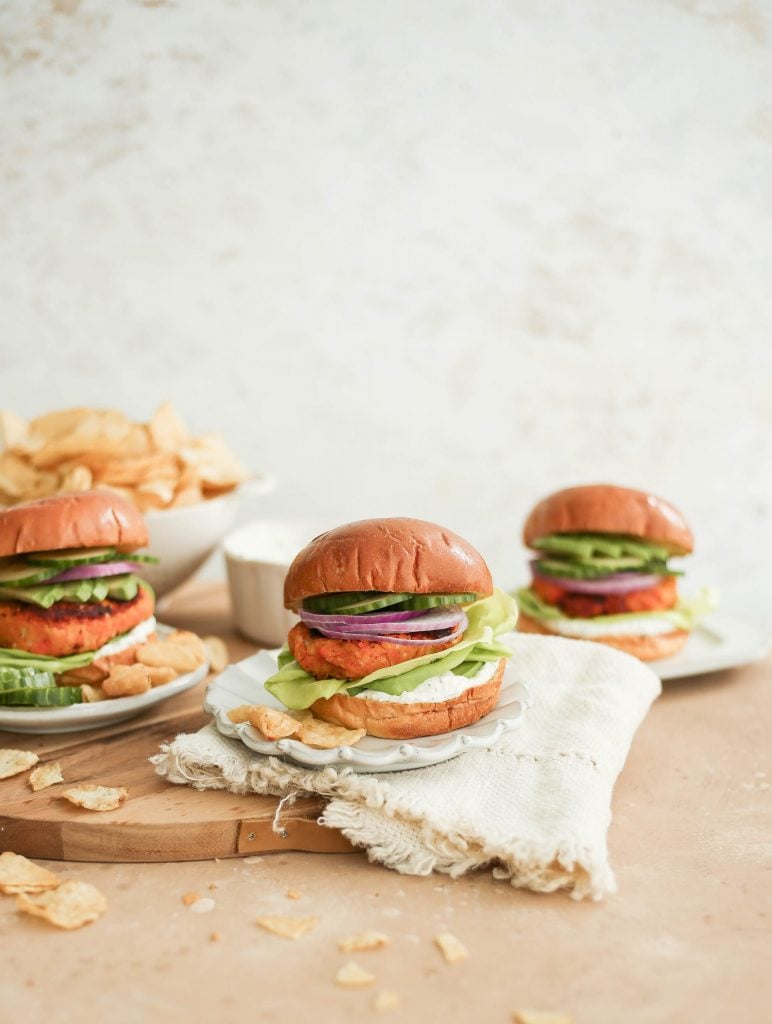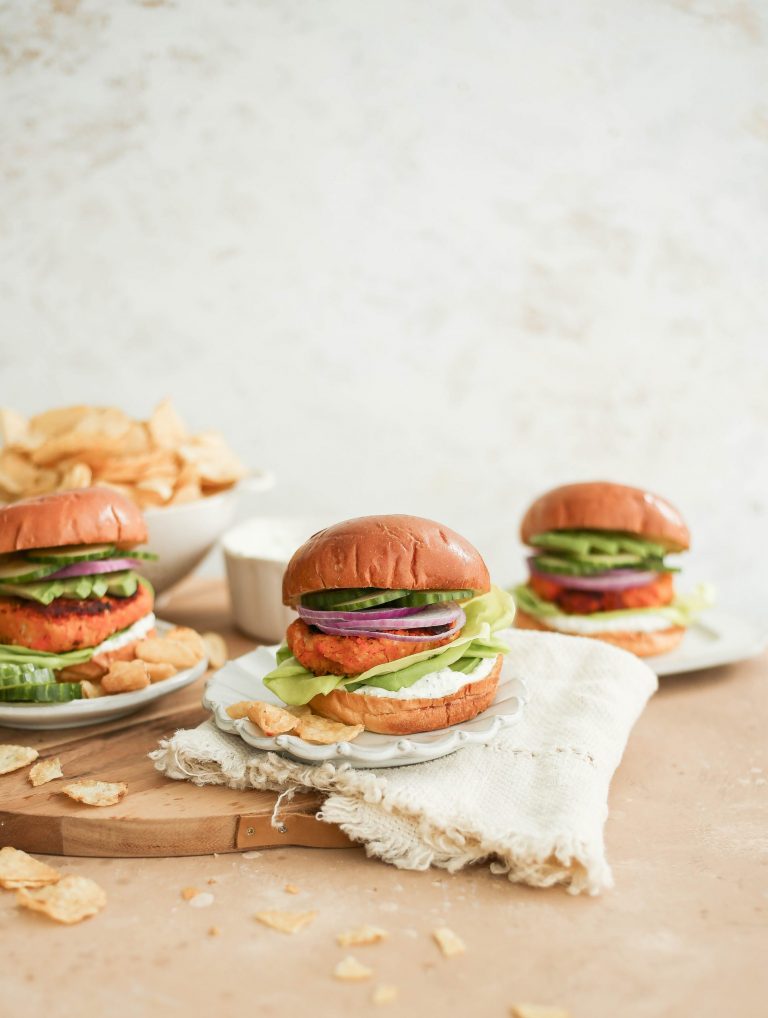 Why We Love It: I know a burger is a controversial start. Is it a sandwich? Is it not? The debate lives on. But, this Sweet Potato Falafel Veggie Burger is so good that you won't even care. It has all the components of a great veggie burger and is packed with more plant-based flavor than even I thought possible. The secret? A few simple hacks that set it eons apart from bland black bean burgers—you know the ones. It's a new vegetarian world, people.
Hero Ingredient: As with any respectable burger, feel free to load up on the toppings. For a fresh bite, try cucumber slices, red onion, and butter lettuce. Caramelized onions and avocado would also be delicious here.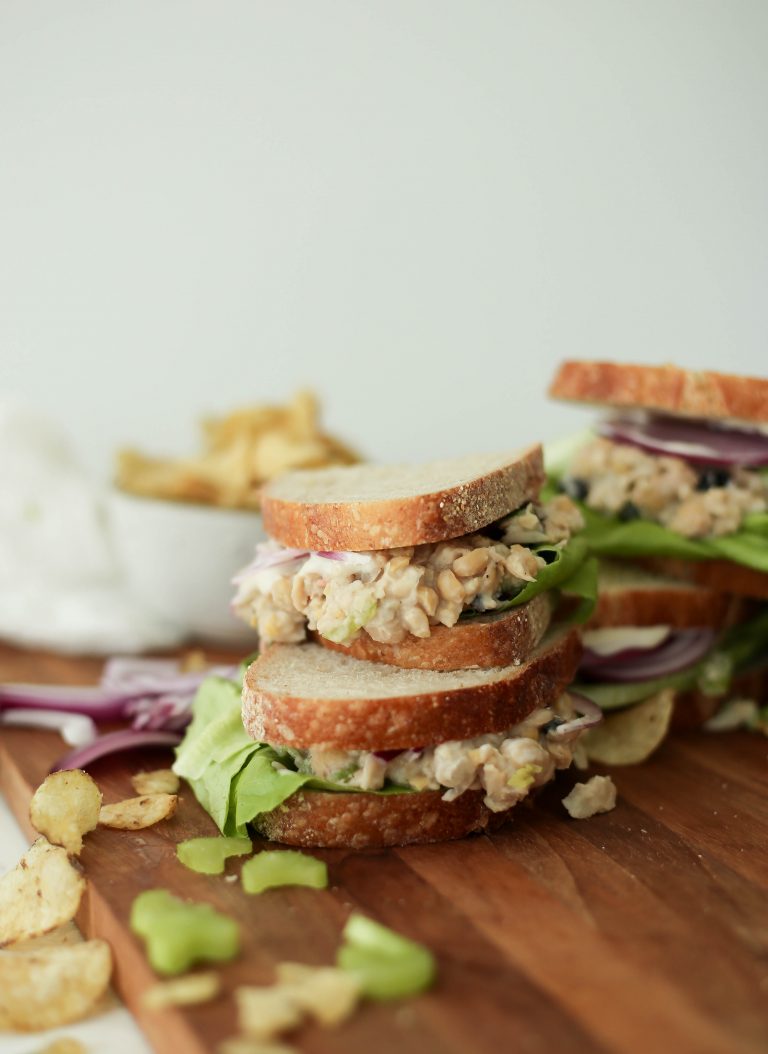 Why We Love It: There's nothing better than having lunch on hand throughout the week. By making this chickpea salad, your efforts on Sunday can be the workweek's lifeline. It's simple to make, nourishing, and full of flavors and textures you won't want to miss. Plus, those mighty chickpeas pack an impressive dose of protein, fiber, and complex carbs into each tasty sammie.
Hero Ingredient: This sandwich is all about the dried cranberries. The occasional bite of tartness is definitely something to write home about.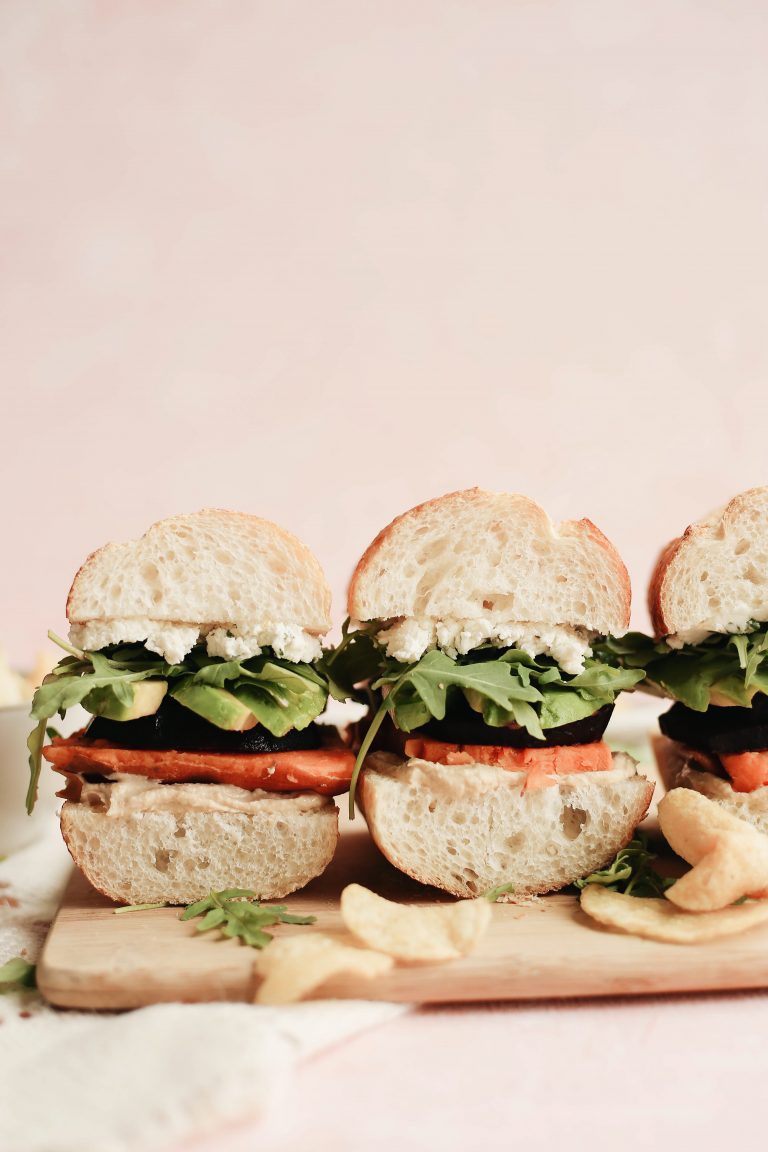 Why We Love It: Roasted sweet potatoes and beets might not sound like your typical sandwich toppings, but they sure do work wonders here. With a dreamy goat cheese spread, smooth hummus, and creamy avocado, there's a lot of goodness happening in this handheld hottie. It's jam-packed with wholesome ingredients to ensure you're getting your fill during lunch hour.
Hero Ingredient: The goat cheese spread is life-changing. And so simple. Just goat cheese, chives, basil, lemon juice/zest, and a little s&p. Who would've thought?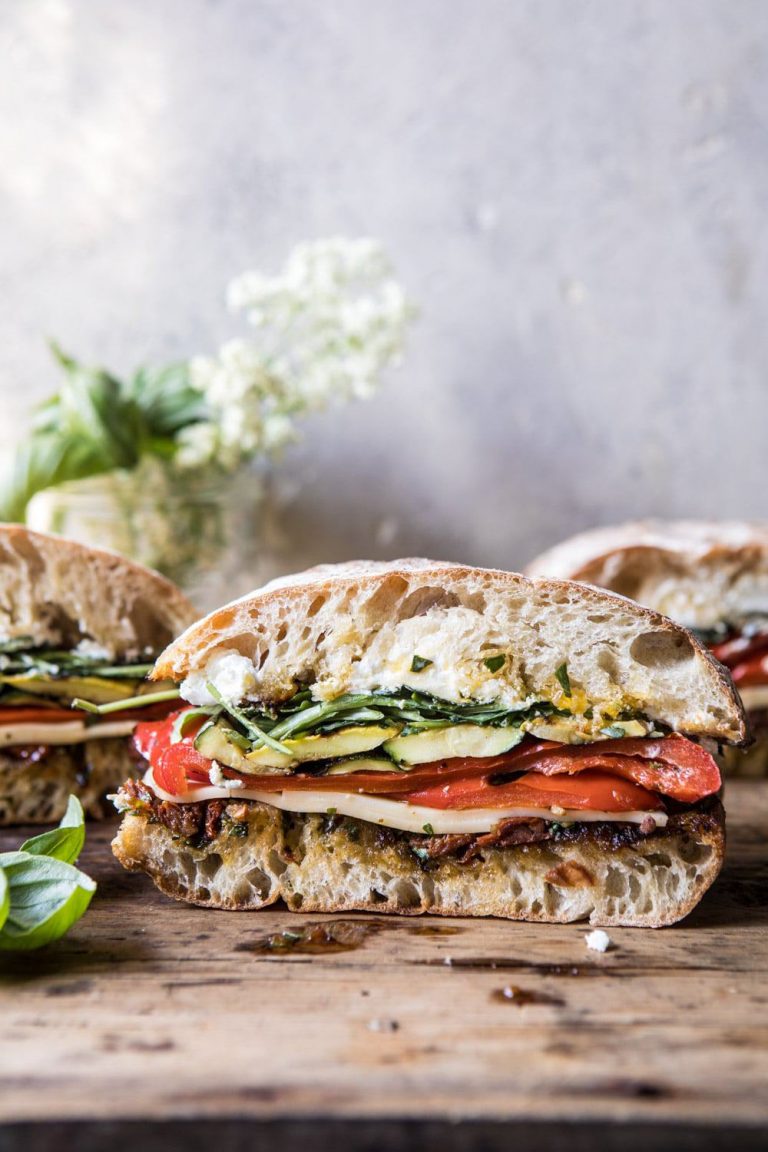 Why We Love It: Marinated veggies and cheese are magical sandwich fillings that truly shine in this sammie. By marinating the veggies in olive oil, vinegar, garlic, and herbs, they become tender and flavorful superstars alongside creamy cheese and crusty bread. In this dynamic vegetarian sandwich recipe, you're getting an impressive combo of zucchini, bell peppers, and arugula all wrapped up in one cohesive package.
Hero Ingredient: Sun-dried tomato pesto keeps things nice and (forgive me) moist. Make a little extra to keep in the fridge if you can!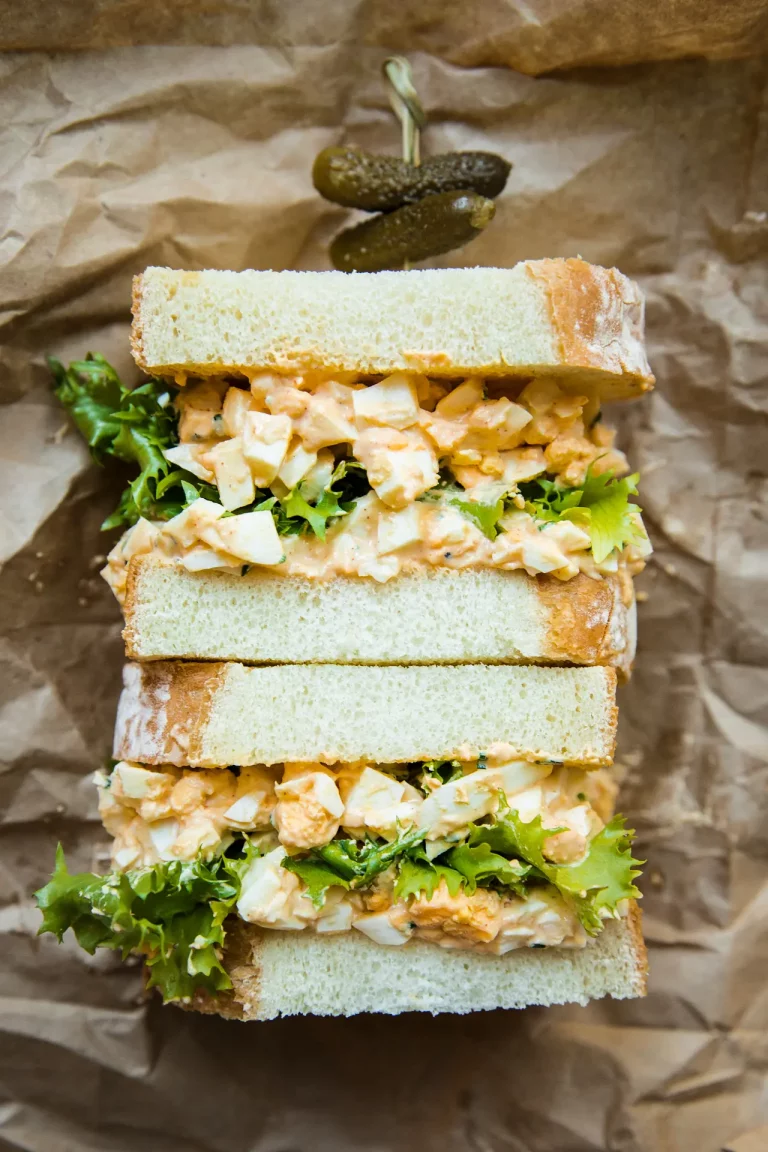 Why We Love It: In the world of vegetarian sandwich recipes, egg salad is a classic that always hits the spot. This recipe serves as a love letter to the indelible sandwich filling because it's pretty much perfect. The balanced mayonnaise-mustard base keeps things interesting and still allows the egg to shine. Plus, a touch of garlic, chive, and the smallest splash of pickle juice sends this recipe over the top. It's award-worthy.
Hero Ingredient: Capers, while optional, make a yummy addition to the egg salad.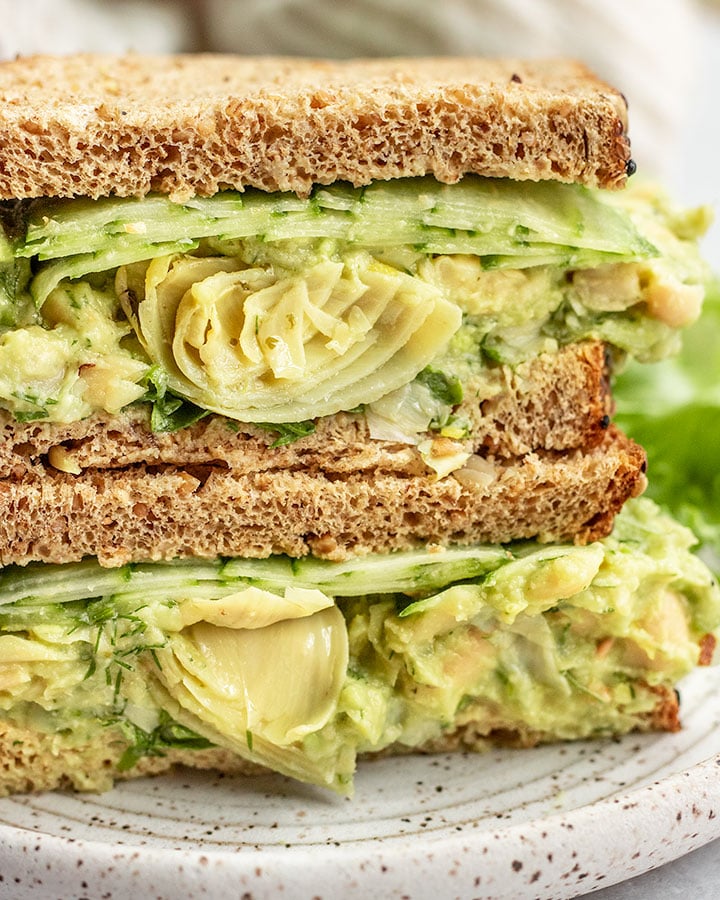 Why We Love It: White bean and avocado mash lays the groundwork for this gorgeously green veggie sandwich. With lots of herbs, nutritional yeast, artichoke hearts, citrus juice, and more, this one is full of flavors that are beautifully woven together over soft bread. It packs a hefty protein punch, so you should be powered up until the clock strikes dinner.
Hero Ingredient: Did I mention cucumber? Oh yeah, it delivers a crunchy freshness you won't want to miss.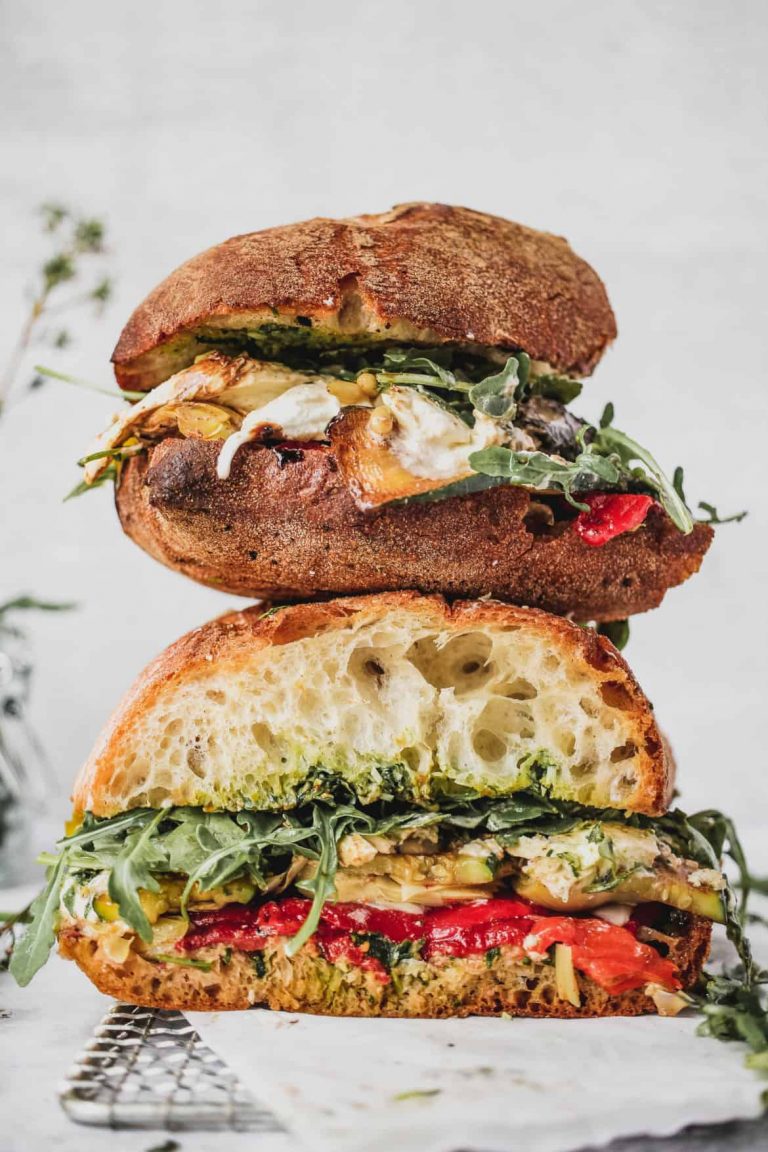 Why We Love It: To put it plainly, this sandwich is loaded. With veggies, flavor, indulgence—you name it. You'll start by laying out two slices of Ciabatta, smearing on tarragon pesto, stacking roasted veggies, and finishing with a whole slew of goodies. Arugula, burrata (swoon), hemp seeds, EVOO, and balsamic glaze all make an appearance to help this sandwich glow. It's truly decadent.
Hero Ingredient: There's a heavy pinch of paprika on those veggies and it makes the sandwich. Don't skimp.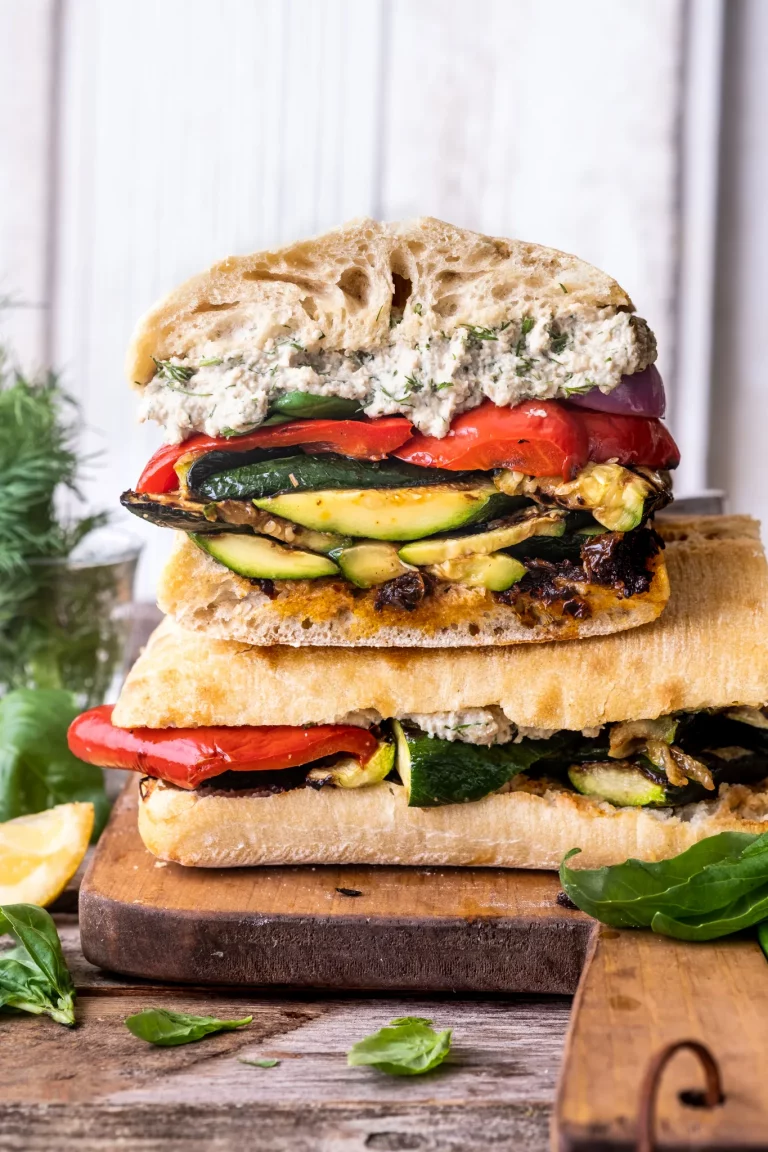 Why We Love It: Fire up your grill for this grilled veggie sandwich that's sure to excite. With a combination of zucchini, red bell pepper, and red onion working together in harmony, this one checks all the boxes. Plus, the bread is smeared with sundried tomatoes and a vegan ricotta that's even tastier than it is impressive.
Hero Ingredient: The vegan herbed sunflower ricotta is the product of pure, creative genius.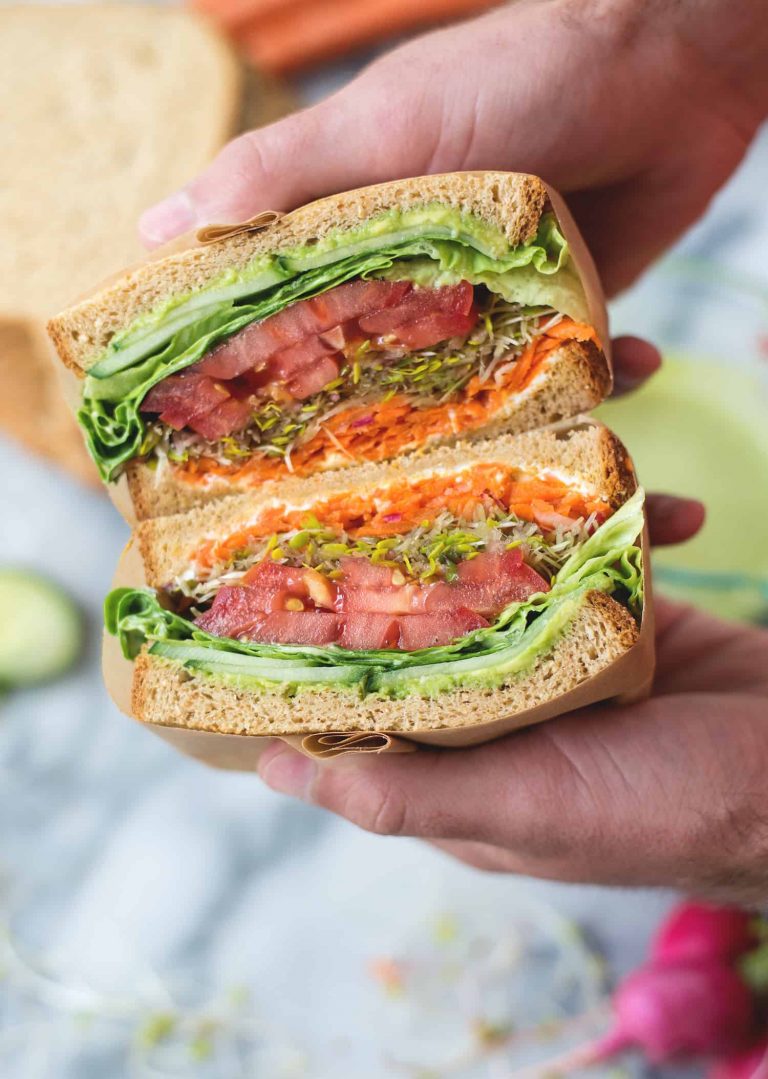 Why We Love It: You've read about it, you've heard of it, but have you actually tried eating the rainbow? Let me tell you, it's a fun and highly-beneficial concept to introduce to your diet. In the case of this sandwich, you're getting all kinds of gorgeous colors in an aesthetic format that's also all kinds of delicious. Shredded carrot, radish, butter lettuce, avocado, goat cheese, heirloom tomato, cucumber, and more mingle beautifully in this sammie.
Hero Ingredient: As always, it's all about the green goddess dressing.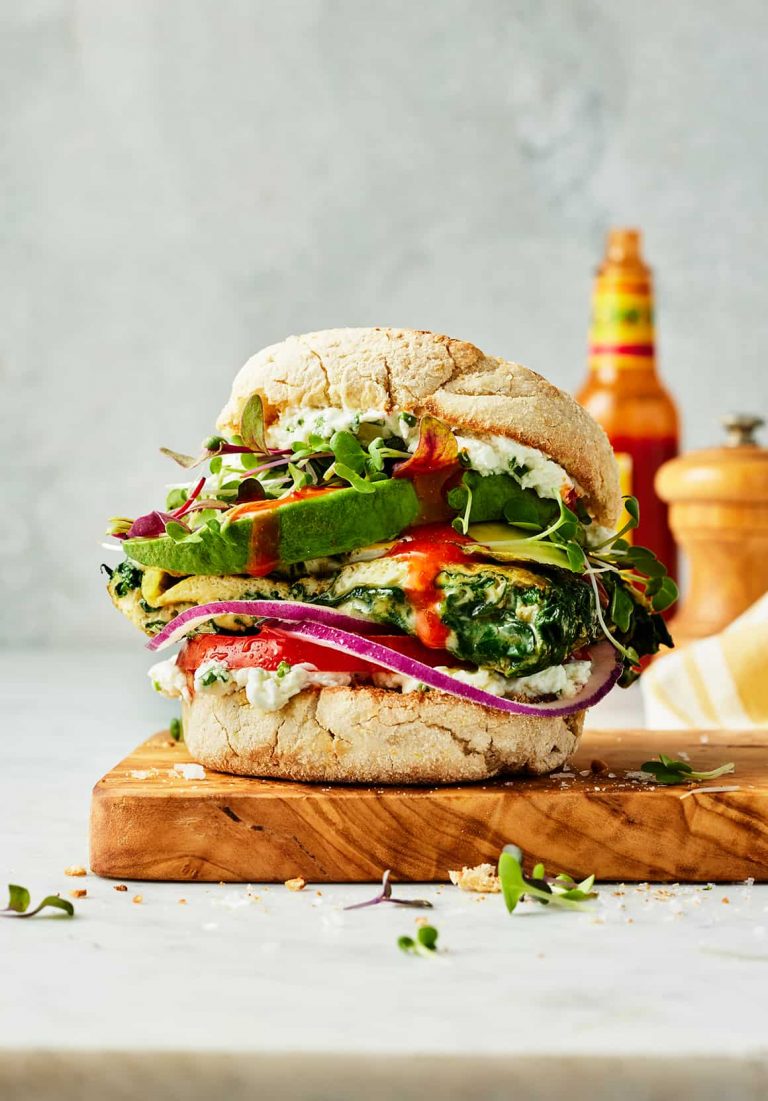 Why We Love It: I don't know about you, but I'm sometimes not the biggest fan of meat-filled breakfast sandwiches. They can be too heavy for me in the morning and sort of, well, linger throughout the day in a way that doesn't bring me joy. Instead of that unpleasantry, this vegetarian breakfast sandwich offers glowy sunshine to start the day. I'm already eating it with my eyes, but here's what you need to know: English muffin, spinach omelet, creamy goat cheese spread, tomato, avocado, hot sauce… the rest is a beautiful mystery.
Hero Ingredient: The world is your oyster with this sandwich. You could take it in a thousand different directions based on your taste, so don't be afraid to color outside the lines!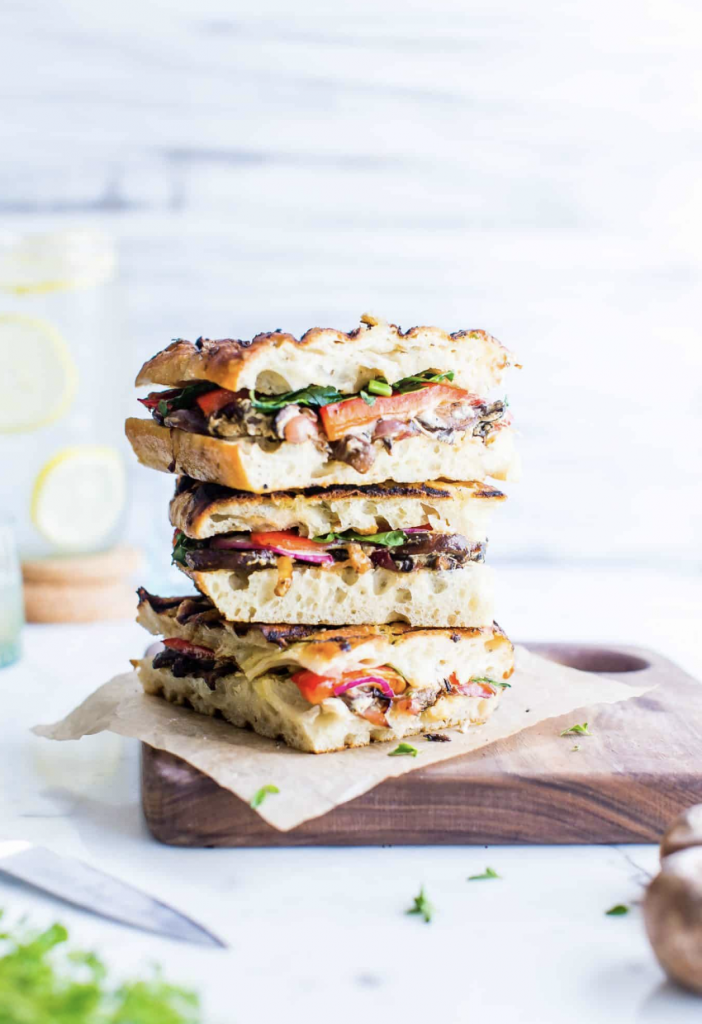 Why We Love It: Mushrooms will always be a powerhouse vegetable and that's definitely the case in this panini. One of my favorite parts about this panini is that it's super crispy on the outside thanks to that sourdough focaccia. Or as I like to call it, the love child of two superior breads—lol. Anyway, the bread's balsamic vinegar/olive oil spread is surely blessed by the mushroom, red pepper, and spinach sauté that tops it off.
Hero Ingredient: It's always going to be the goat cheese crumble. You simply can't beat the tang.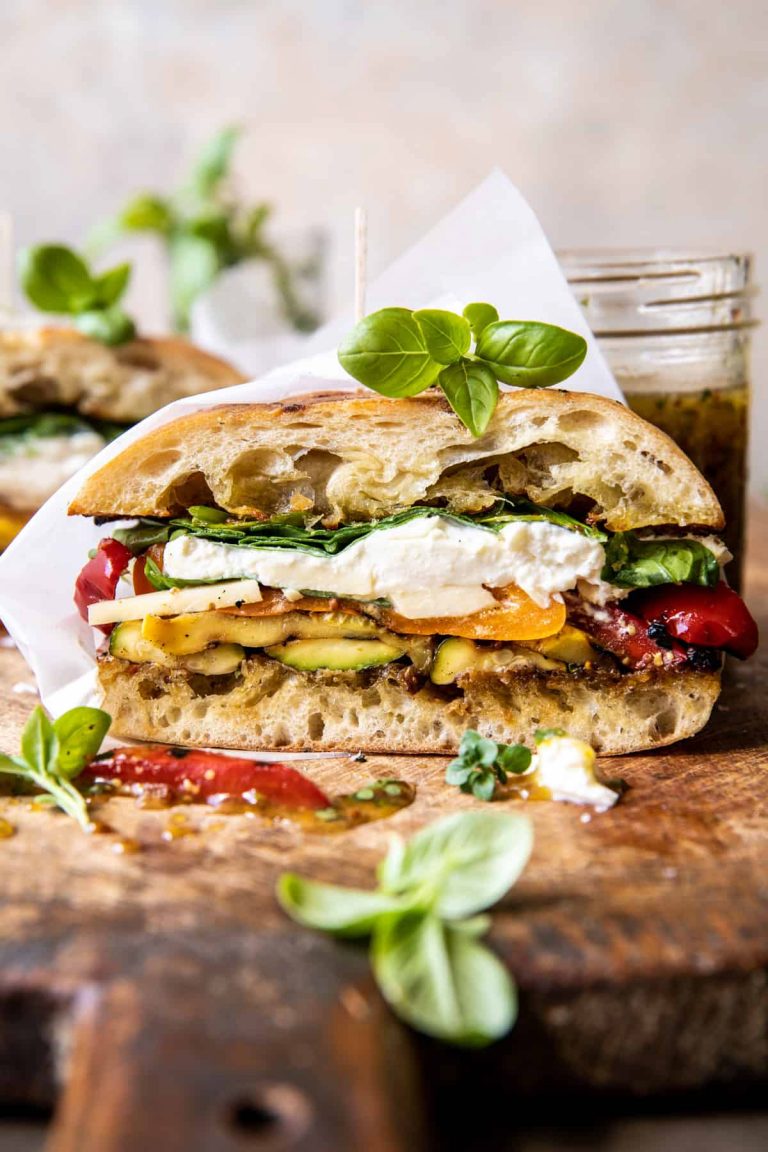 Why We Love It: These summer veggies get the royal treatment of a honey mustard bath before hitting the grill. On the grill, their edges become nice and caramelized to give your sandwich that subtle charred flavor reminiscent of hot summer afternoons. Then, enter burrata, provolone, spinach, herbs, and a secondary drizzle of lemon thyme honey mustard. Yum city.
Hero Ingredient: This is definitely a summery sandwich, but you don't have to fire up your outdoor grill if the January temps are keeping you inside. Instead, you could use a stovetop grill pan if you've got one, or try roasting your veggies in the oven instead!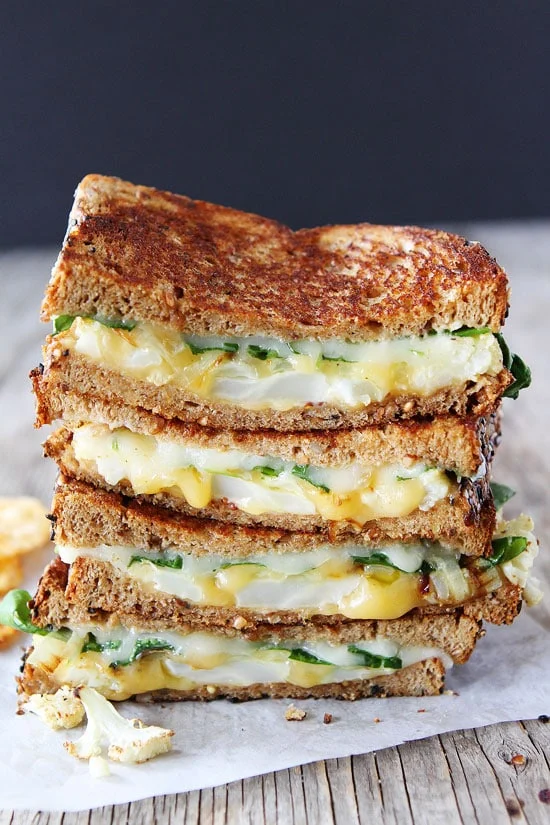 Why We Love It: This is a kinda healthy, kinda indulgent masterpiece that I could literally eat every day. Roasted cauliflower meets Havarti and Gouda cheeses, arugula, onions, and a dreamy lemon mustard aioli—all under the same buttery roof! It's magical and I highly encourage you to give it a try. Be warned… you could be hooked.
Hero Ingredient: The outsides of the bread get the butter works, but the inside is lathered with lemon mustard aioli that livens up all this sandwich's cheesiness.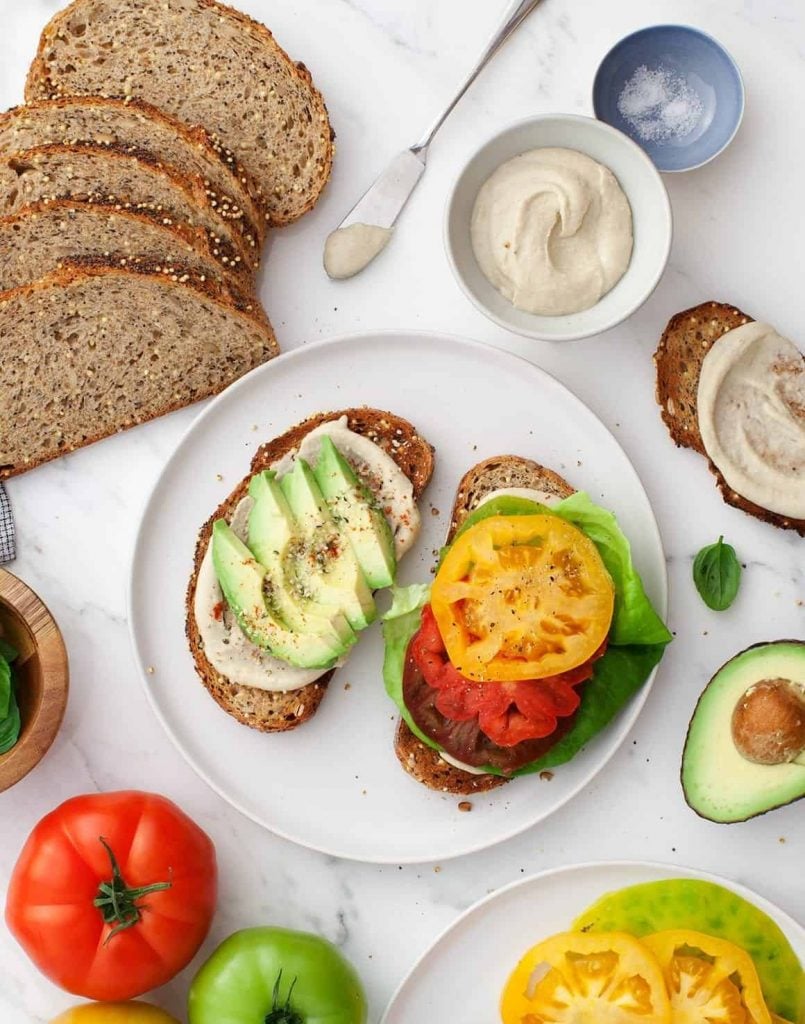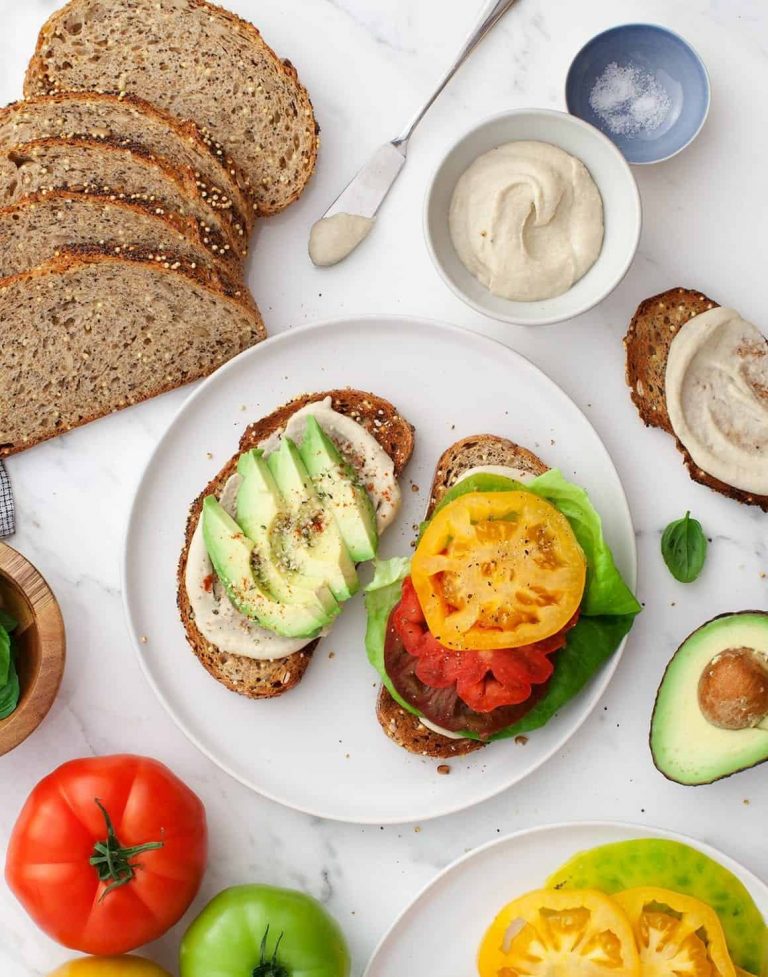 Why We Love It: No judging allowed, but the first time I had a tomato sandwich was actually a few months back. As a reformed tomato hater, I decided to venture on the complete opposite end of the spectrum and order a tomato sammy that I was blown away by. And this one has that same simplicity that made it so life-changing. Juicy tomato slices seasoned and sandwiched between bread and butter lettuce? Sign me up a million times over.
Hero Ingredient: A smear of white bean puree offers a creamy component to the sandwich that's substantial and rich.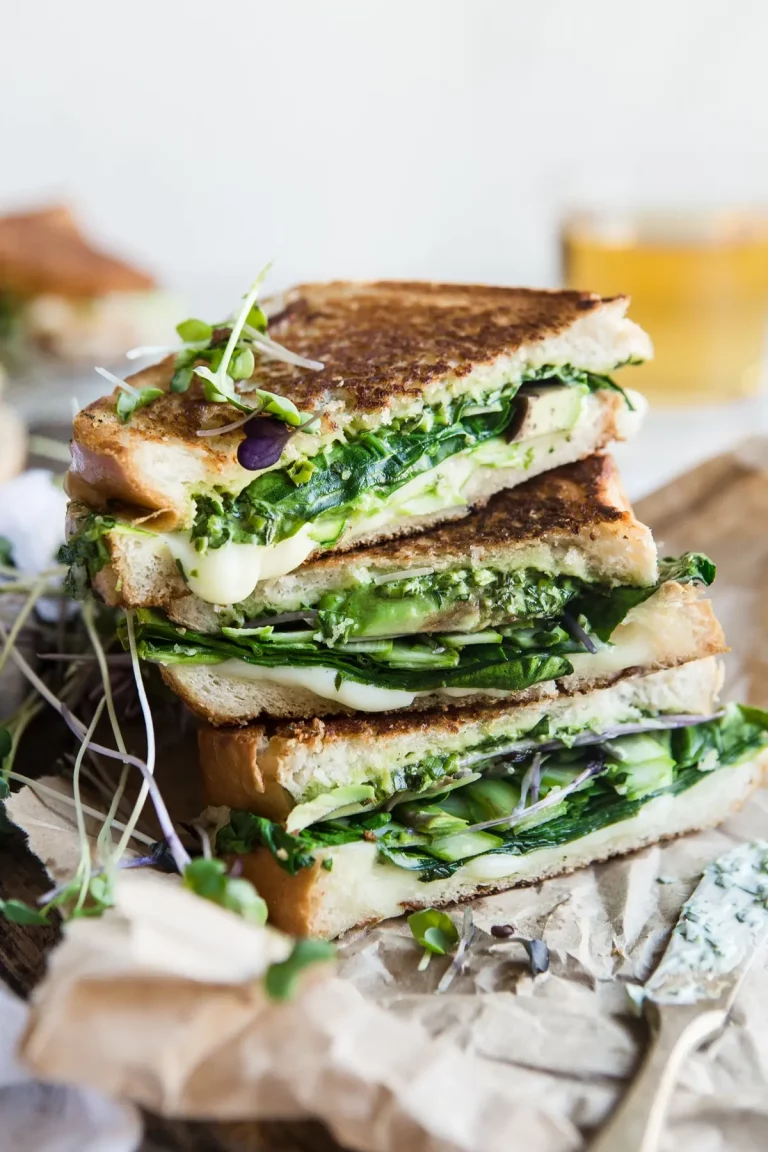 Why We Love It: This sandwich is green goddess, grilled. (And full of cheese.) Does it get much better than that? It toes the line between healthy and totally indulgent, giving you lots to feel good about as you enjoy. Avocado, baby spinach, shaved asparagus, and microgreens weave throughout the cheesy goodness to leave you with a satisfying and tasty lunchtime treat.
Hero Ingredient: That green goddess spread is definitely divine.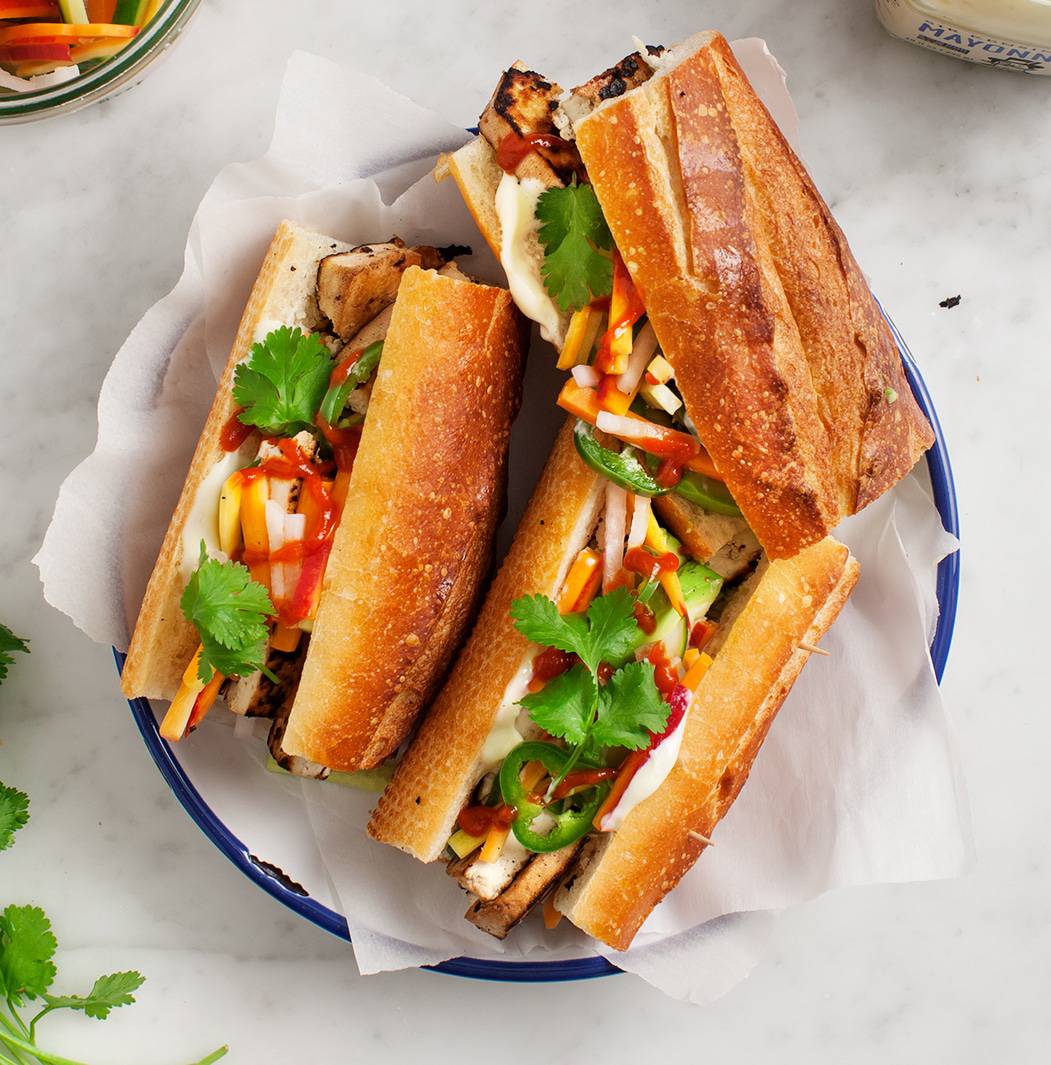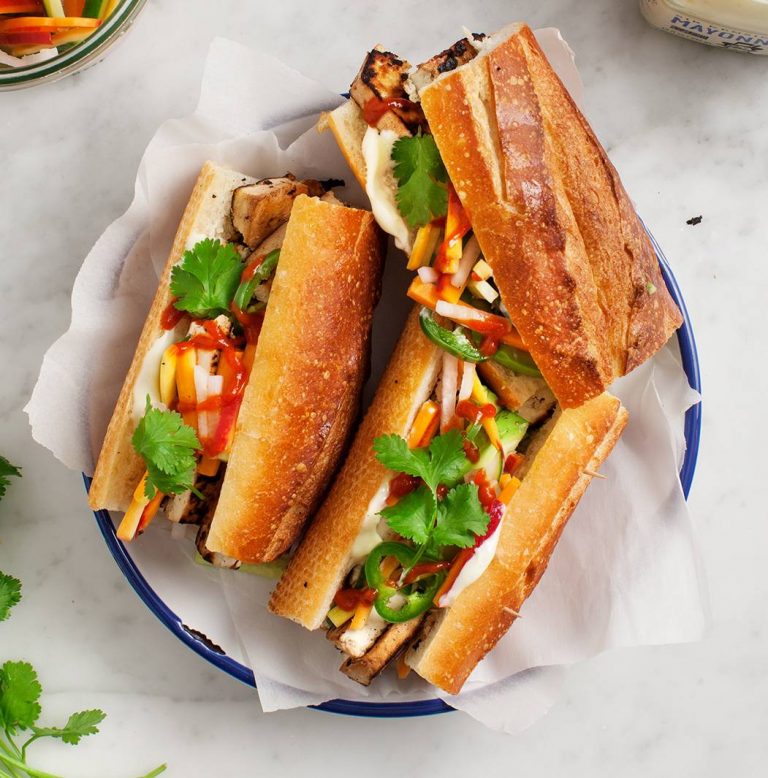 Why We Love It: If you've ever had a Banh Mi sandwich, you know just how good they can be. Instead of using the traditional pork, this recipe calls on extra firm tofu to substantiate the sammie. It's marinated in a mixture of olive oil, tamari, lime, garlic, ginger, and black pepper to keep the flavors flowing throughout. Plus, a handful of pickled veggies joins the party to keep this sandwich dynamic and rounded.
Hero Ingredient: The pickled jalapeño is a very yummy touch.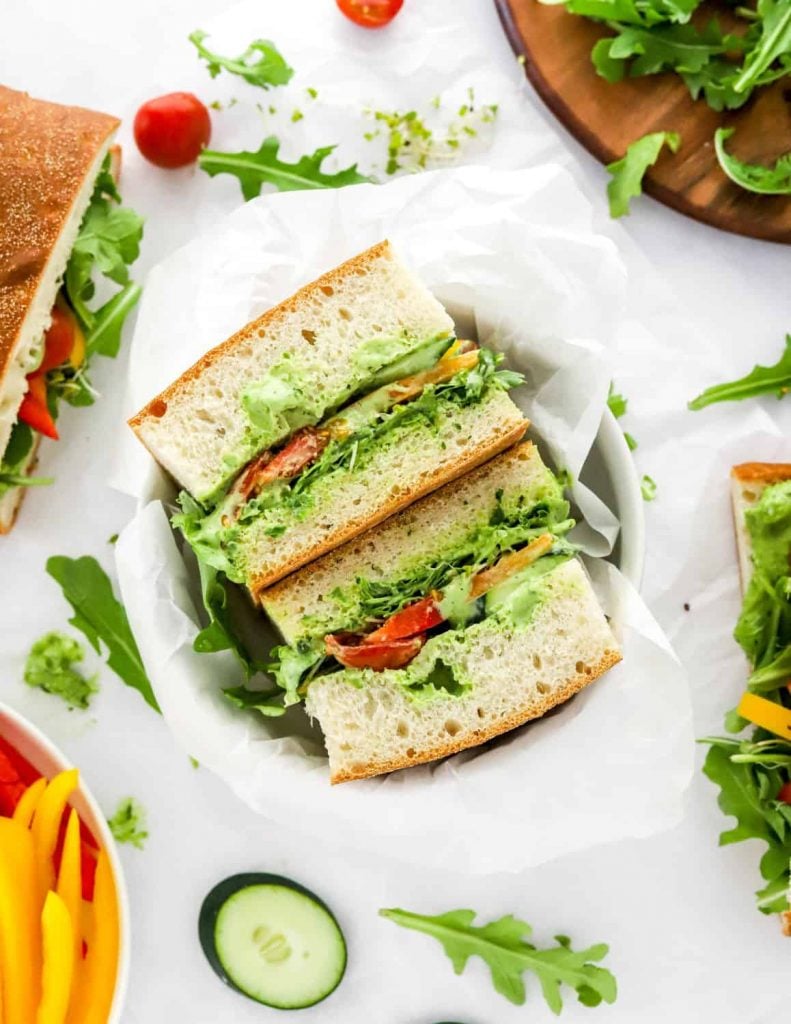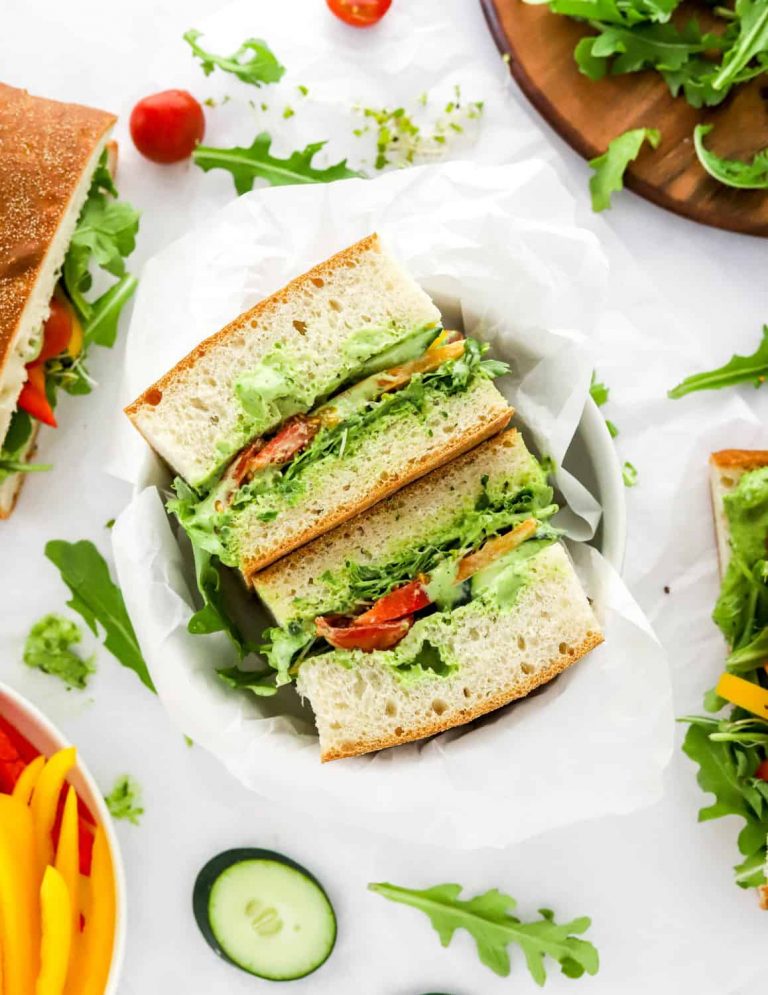 Why We Love It: A raw veggie superstar, this simple garden sandwich is loaded with juicy veggies to help you glow from the inside out. With all three bell pepper varieties, cucumber, cherry tomatoes, arugula, and more, this one is full of life and nutrients. Plus, it's served on ciabatta bread with a drizzle of green goddess dressing to keep you full.
Hero Ingredient: If you have the capacity, shake up a little extra dressing! You can use it throughout the week on other vegetarian sandwich recipes, salads, wraps, crudités—you name it. Just store it in an airtight container in the fridge (a mason jar rules here) and keep it for up to three days.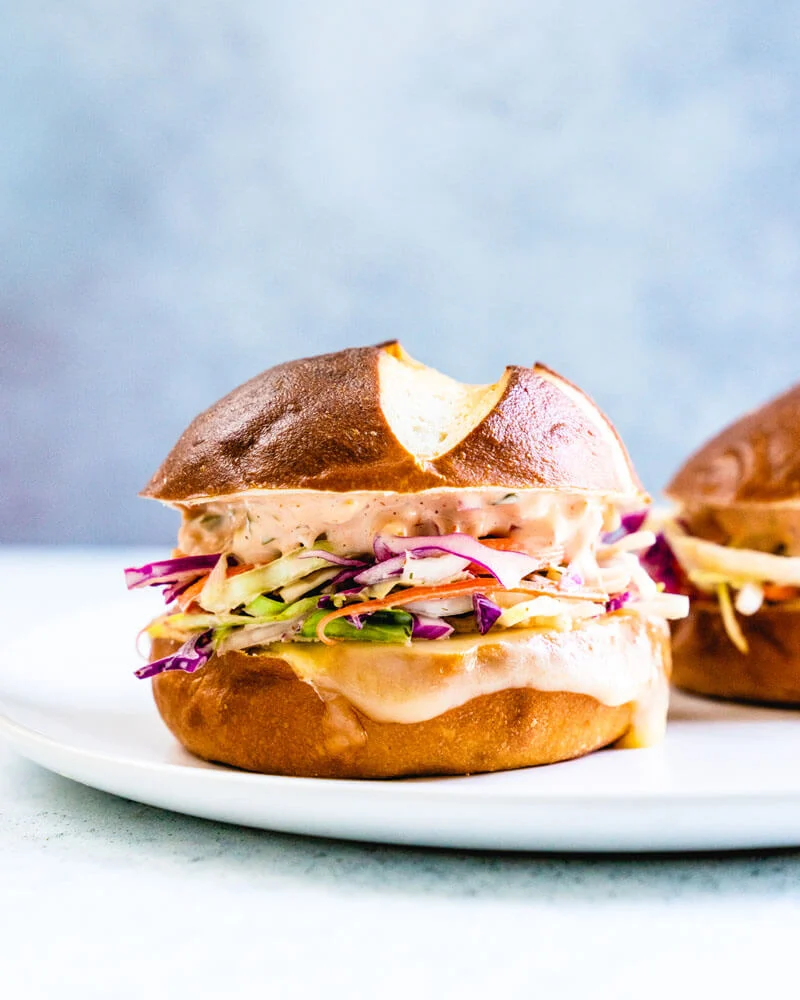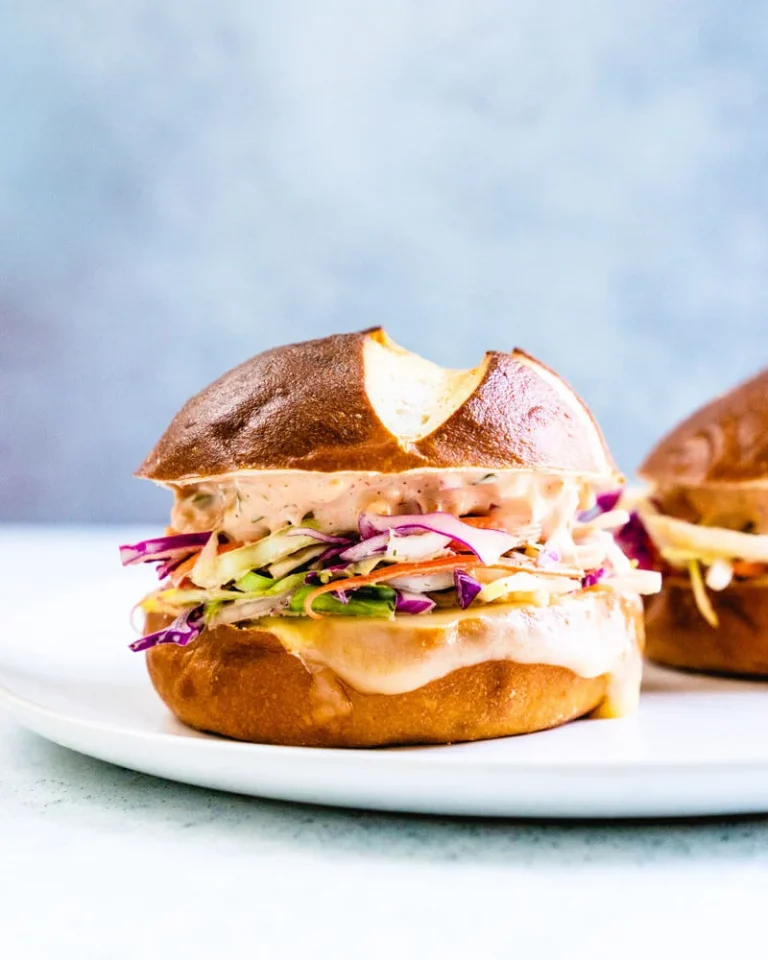 Why We Love It: Coleslaw, melty cheese, pretzel bun, and creamy Russian dressing are the fuel behind this unexpectedly delicious vegetarian sandwich. It's made with just cheese and coleslaw on a bun, but the result is something so much more than the sum of its parts. I know it's still winter officially, but these little sliders would make an excellent vegetarian offering at a barbecue.
Hero Ingredient: You can never go wrong with Russian dressing. It's such a treat.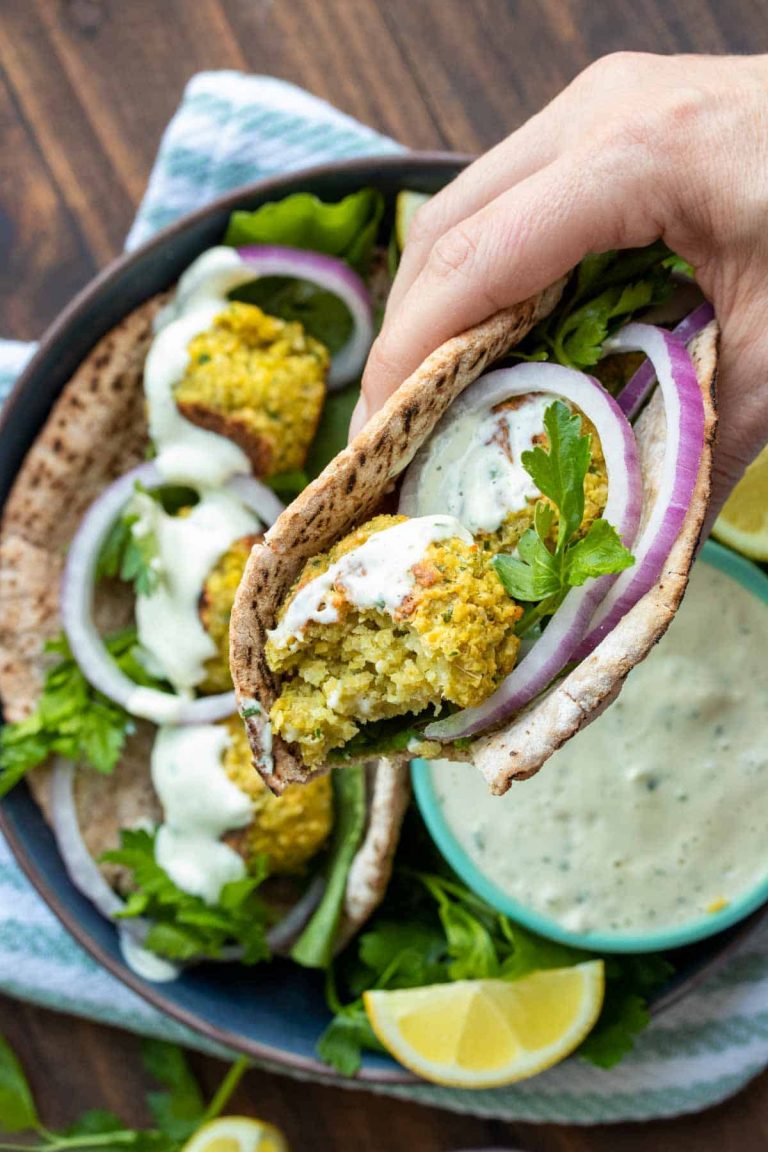 Why We Love It: A falafel pita is a great way to mix up your meals while keeping them healthy and nourishing. With a little pre-prep, they're incredibly simple to put together and even easier to enjoy, of course. The falafel itself takes about 35 minutes of hands-on time, so consider making it ahead of time as a gift to your future self. Once you've got that down, you'll assemble inside fluffy pita with your veggies of choice and a generous drizzle of vegan tzatziki.
Hero Ingredient: The falafel is loaded up with seasonings like coriander, garlic, cumin, and more. It's totally flavorful and equipped to power up your lunch or dinner.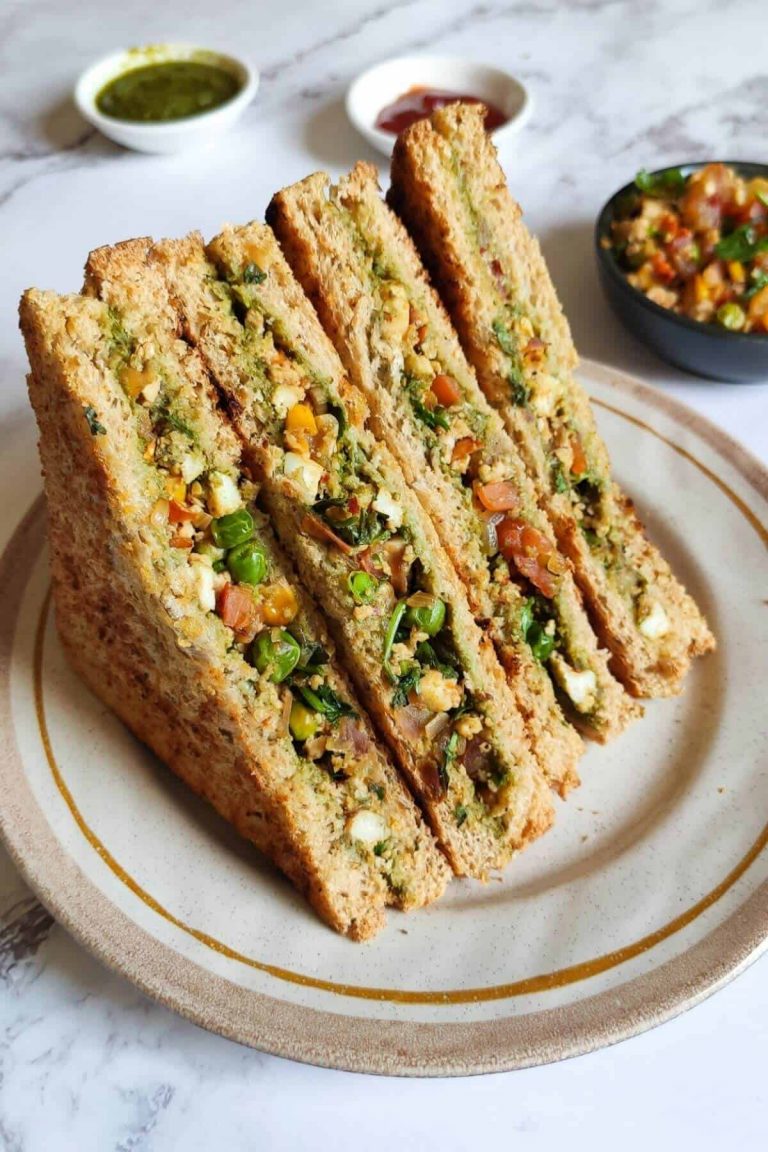 Why We Love It: This cheese-filled sandwich is full of flavor and veggie goodness. It's a grilled sandwich stuffed with paneer, vegetable filling, and a spicy green chutney that keeps things interesting. The vegetable filling includes onion, tomato, carrot, corn, and peas, which might not sound like your typical sandwich components, but they definitely shine in this delicious paneer sammie. Don't knock it 'til you try it.
Hero Ingredient: The chutney gives this sandwich just the right amount of kick.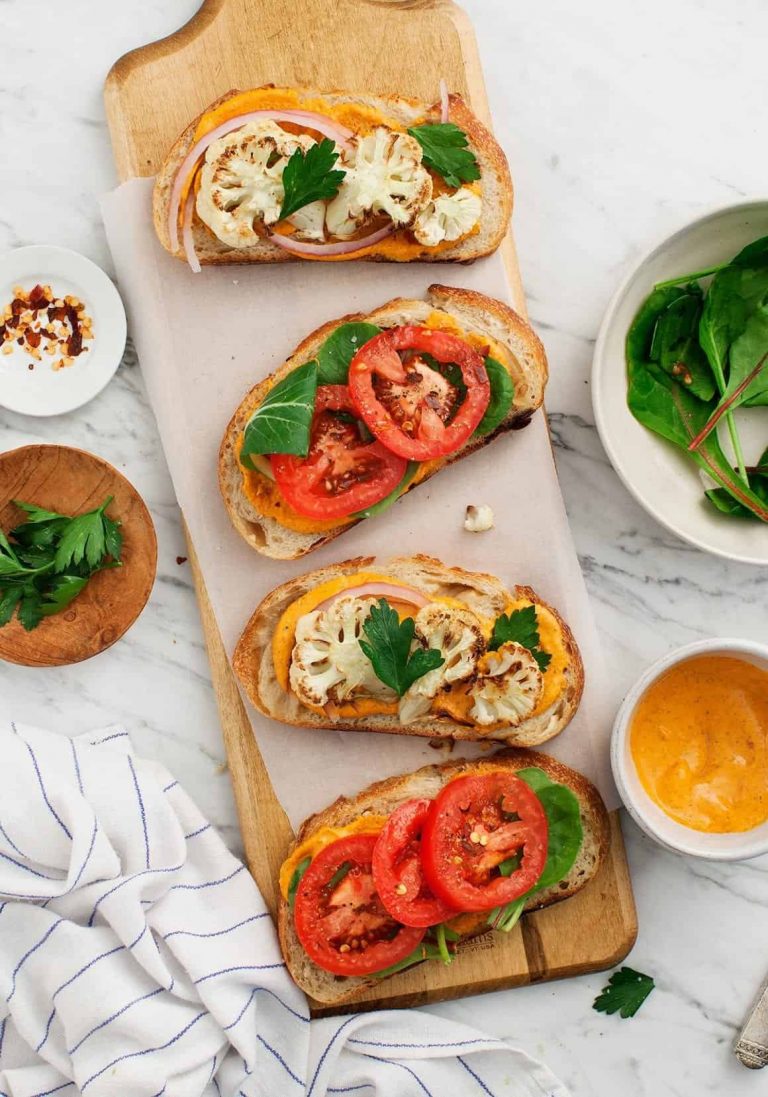 Why We Love It: Nutty romesco sauce, toasty bread, a mix of roasted and raw veggies, and lots of fresh herbs come together to craft this gorgeous sandwich. Personally, I'm so glad they do. It's a creative sandwich that offers a unique and exciting way to pack more veggies into your diet. Each element is delicious on its own, and they intentionally combine to make something even better.
Hero Ingredient: The romesco sauce is dairy-free, with almond milk providing the creamy consistency.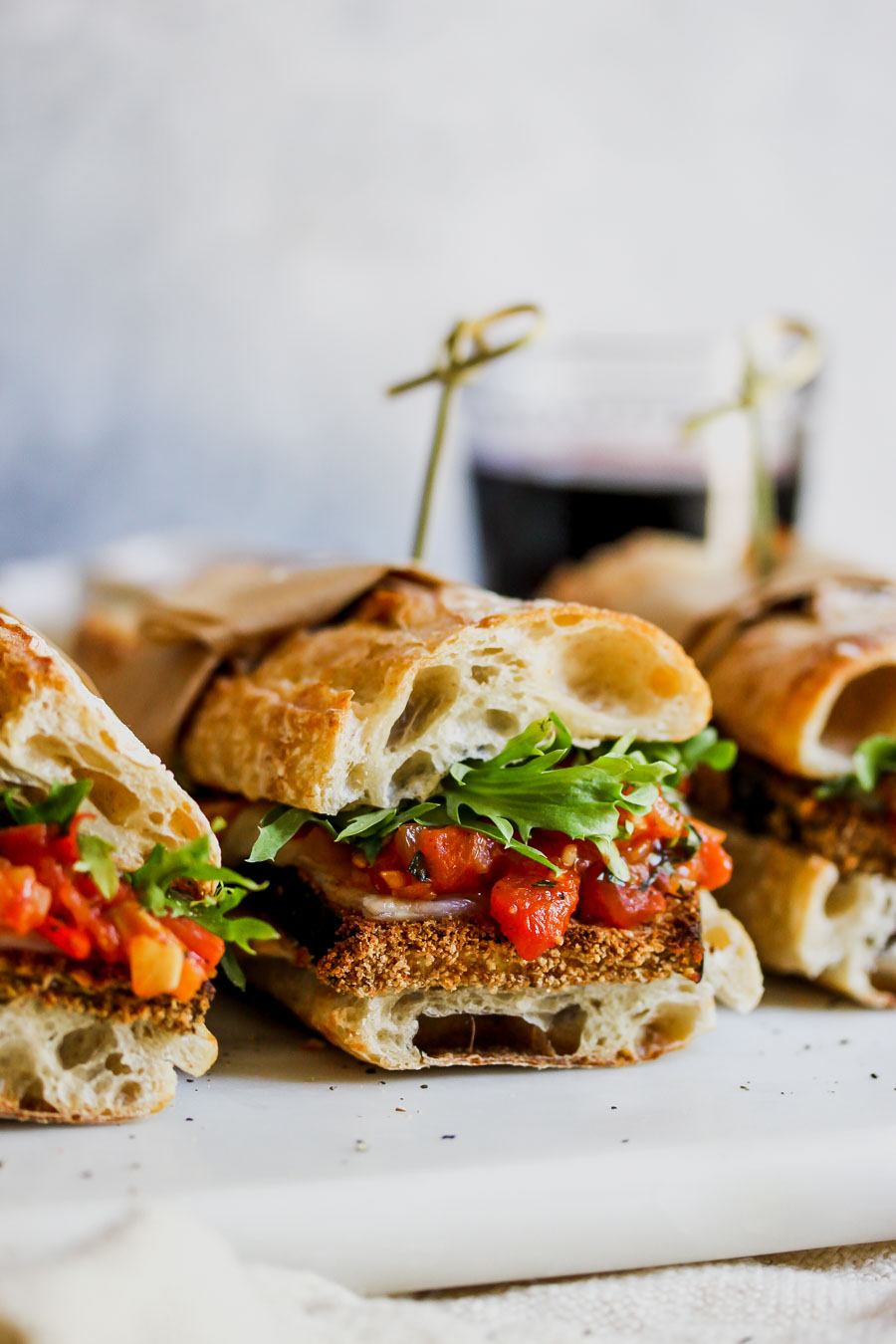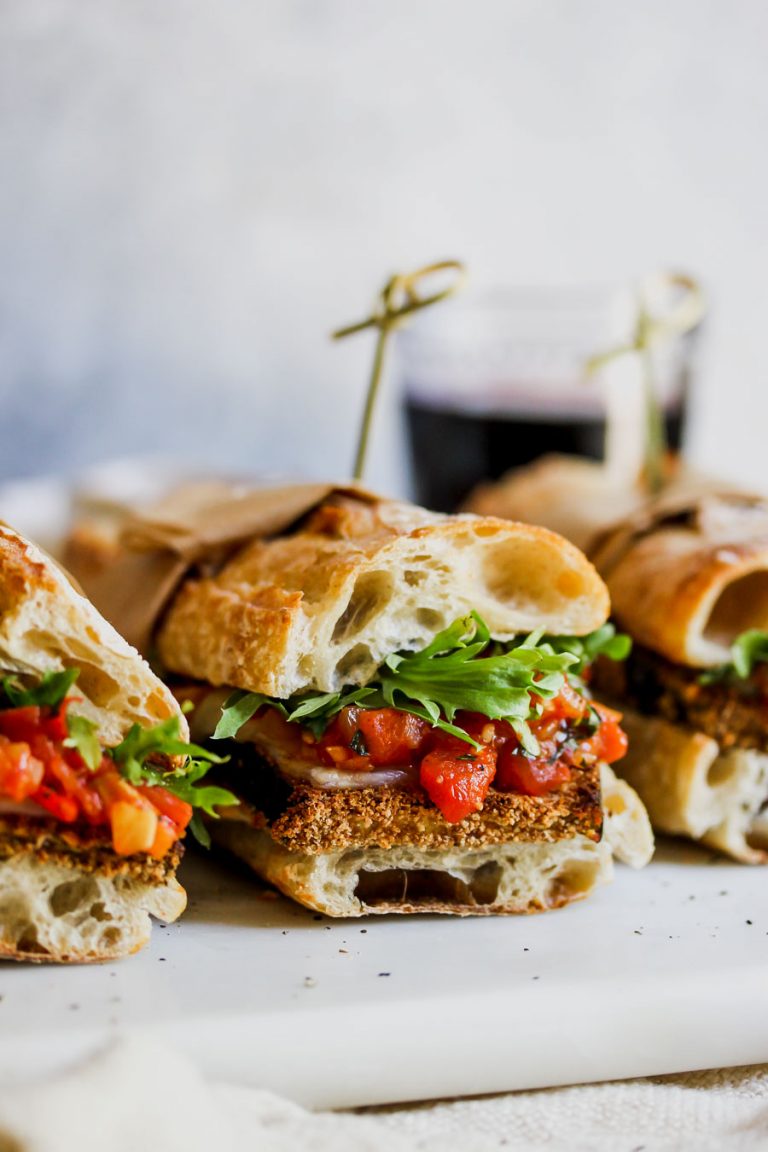 Why We Love It: Offering a fresh take on vegetarian sandwich recipes, this crispy eggplant spin is a welcome change of pace that's indulgent and healthier. The eggplant is breaded and oven-baked, giving it a crispy texture within that sandwich that's reminiscent of a really good eggplant parm. It's definitely worth a try—this one is tasty, folks! (On another note, this sandwich is just begging for a tomato basil soup companion. May we suggest this recipe?)
Hero Ingredient: As for the hero ingredient, the tomato-tarragon relish almost steals the show.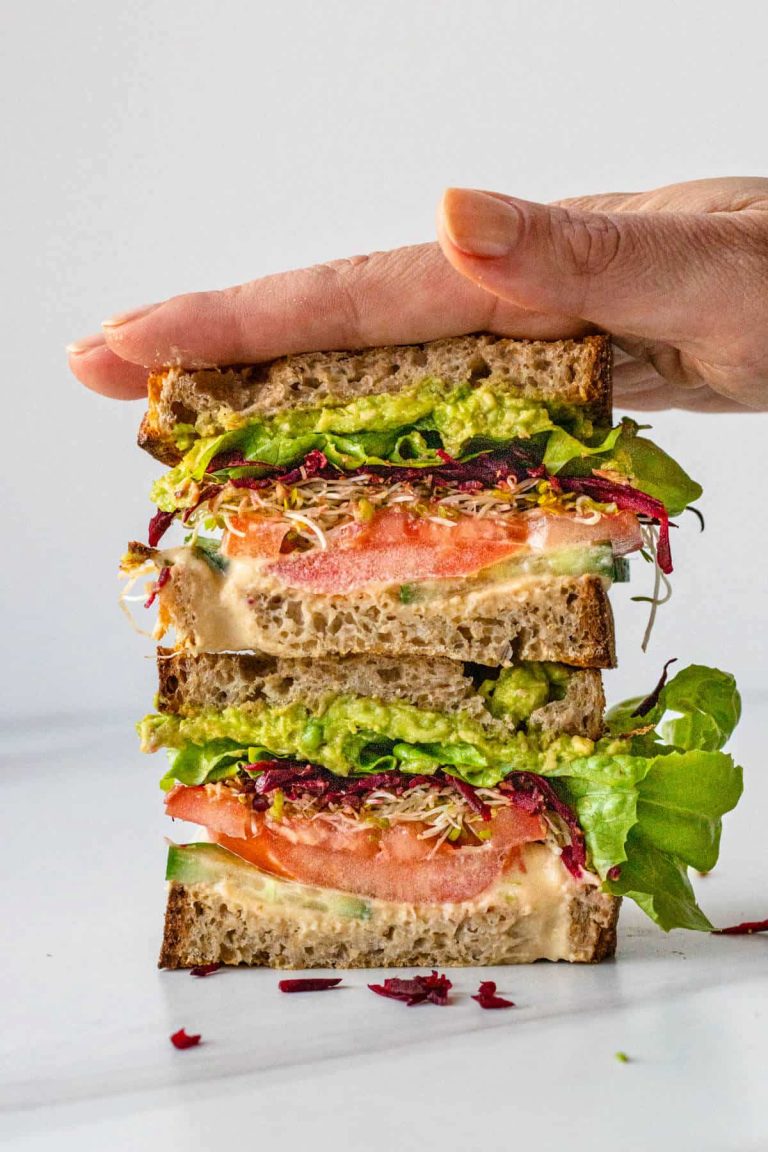 Why We Love It: Hummus, cucumber, tomato, sprouts, beetroot, avo, and butter lettuce work some magic between the slices of sourdough. It's a simple sandwich that celebrates each individual flavor to the fullest. This one is fresh and nourishing. It's also such an easy make-ahead lunch or dinner that you'll thank yourself for later.
Hero Ingredient: It may sound insignificant, but seasoning this sandwich with salt and pepper at the end is crucial. The salt extracts maximum moisture from your veggies and the pepper brings a necessary kick to the party.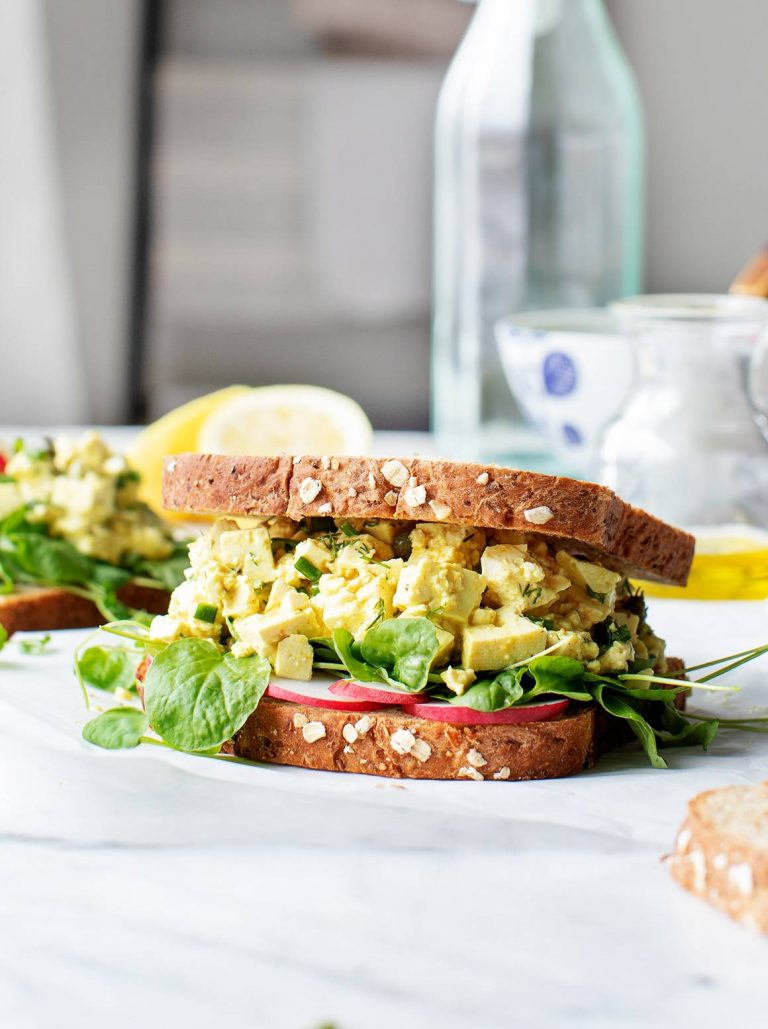 Why We Love It: Again, egg salad is one of those recipe box recipes that, when craved, must be satisfied. Instead of using actual eggs, this vegan alternative subs in tofu pieces to mimic the eggs and packs a serious protein punch in doing so. If that piques your interest, I highly encourage you to give this one a try. You won't regret it!
Hero Ingredient: The capers definitely take the cake. That punchy saltiness in each bite is just divine.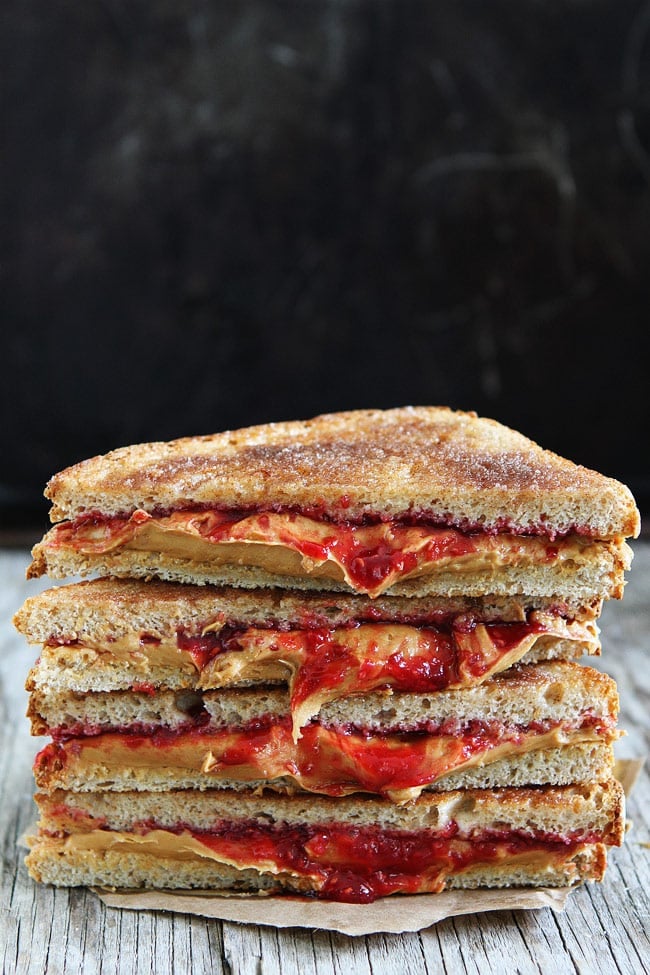 Why We Love It: This isn't a super nourishing sandwich by any means, but it does carry a few key nutrients and a whole 'lotta deliciousness that make it the ideal afternoon pick-me-up. PB&J's are the most nostalgic sandwich and deserve a shoutout on this list because—if you're like me—you probably forget about them regularly. If it fits your craving, let loose and enjoy this Cinnamon Toast PB&J… it's impossible not to.
Hero Ingredient: If you can't get behind the PB&J you enjoyed as a kid, rest assured that you can clean this one up as much as you please. By using organic bread, natural peanut butter, and organic jam, you can indulge in this dose of nostalgia with confidence.
What are your favorite vegetarian sandwich recipes? Let us know!